OC man thanks rescuers who saved his life after traumatic biking accident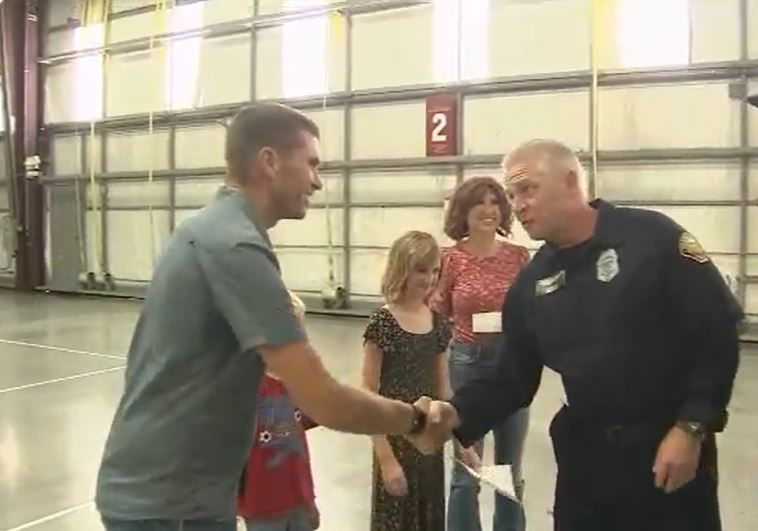 By David González
Click here for updates on this story
FULLERTON, California (KABC) — Charlie McDonald and his family are showing their gratitude to the firefighters and paramedics whom he credits with saving his life.
"It's the best attempt I can do to say thank you because you can't really put into words having your life saved," Charlie said.
Charlie was severely hurt in a mountain biking accident in Aliso Canyon on March 9.
"I broke my skull, neck and back. I had an aneurysm," Charlie said.
Orange County Fire Authority paramedics had to hoist Charlie up to a helicopter where he was rushed to a hospital.
"I didn't understand the severity until I got to the hospital and then I saw him in the neck brace," said Charlie's wife, Lauren. "He was bleeding from his mouth."
While doctors worked to save Charlie, Lauren was in the middle of a fight for her life, battling breast cancer.
"I just told the neurosurgeon, 'You have to fix him, because my kids need a parent,' and so it was really hard and emotional," she said.
On Monday, the rescue crew got a rare opportunity to see how someone they rescued is recovering.
"It was a shock to hear just how grave his injuries were, so to see him walk in today was a phenomenal feeling," said Rick Boman, a helicopter paramedic rescuer with OCFA. "Especially with his wife and kids, you could tell how heartfelt his thank was."
OCFA Capt. Robert Bucho says it's always nice to get that feeling.
"It always feels good to get that," he said. "Sometimes, there's just so many calls that we go on that you don't always hear the outcome, so to hear a positive outcome like that definitely makes you feel good."
Charlie plans to thank the nurses at the trauma center that helped save his life next.
"Thank you for saving my life," Charlie said. "Thank you for giving me a chance to be with my kids, my wife."
Meanwhile, Lauren's final chemo treatment is on Friday.
Please note: This content carries a strict local market embargo. If you share the same market as the contributor of this article, you may not use it on any platform.