Tres Piños Union School offers in-person classes in Hollister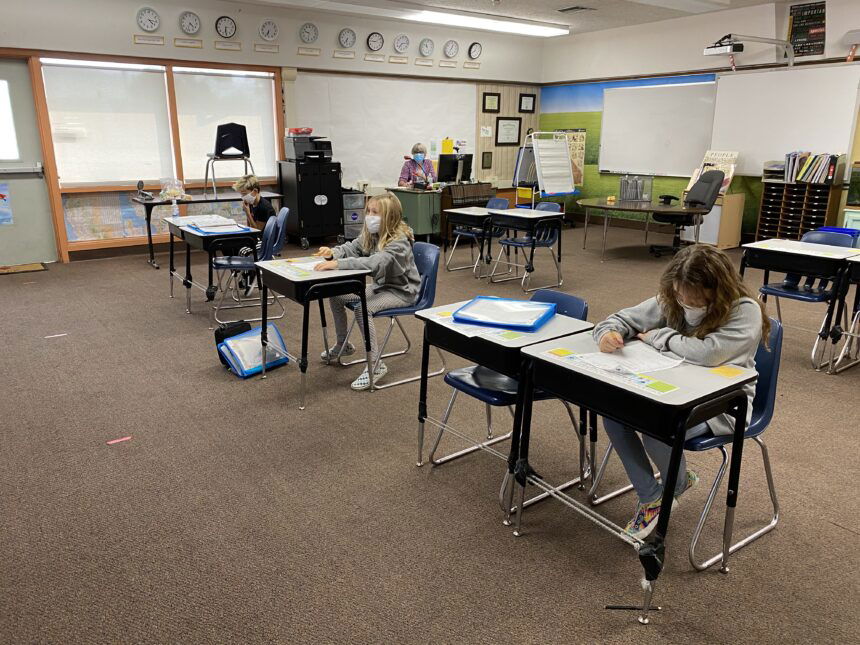 HOLLISTER, Calif. (KION) While most students are learning online during the pandemic, a small number of Central Coast schools are able to hold in-person classes, including Tres Piños Union School in Hollister.
The school began holding in-person classes on August 31 with a hybrid model, where students go to into the classroom two days of the week and do distance learning for the rest of the week. They also have the students staggered, so one group, or cohort, of kids come in Monday and Tuesday for in-person learning and the other comes in on Thursday and Friday.
We got an inside look at Tres Piños on Tuesday.
Students start off their morning with a temperature check and a health screening when their parents drive them up to the school. They'll be asked a series of questions, like if they've been diagnosed or exposed to
anyone whose had the coronavirus within the past 14 days and if they have any symptoms, like cough or fever.
On Wednesdays, the school gets a deep cleaning.
In the classroom, desks are spaced six feet apart and all students are required to wear a masks, except kids below second grade.
"It's been working out really well. We've been going through with the kids
to wash your hands. Keep your hands out of your mouth," Tres Piños Union School Superintendent/Principal Bronson Mendes-LoBue said.
Despite this new normal, 4th grader Sophia Skow is excited to be at
school. They're now two weeks in to in-person classes.
"I'm glad to be back because I get to see some of my friends," Sophia said.
Her mother, Emily Skow, is on board as well.
"I have no worries. I feel like we've been able to reopen safely," Skow said.
About 40 kids opted for in-person classes.
Teachers are teaching a small class of two to three grade levels. As they're doing the in-person instruction, they're also doing instruction for some students who are learning from home.
But some parents chose to stick with full-time distance learning.
"We had around 20 parents–students–who felt that they were not ready to send their children to school because of health reasons, and they just were not comfortable sending their children to school," Mendes-LoBue said.
Administrators say it's taken a lot of work to get here. They had to get a
waiver approved by the county and state health departments to reopen.
"Getting our reopening plans done, getting them accepted by the health
department and it was an endeavor–a long, hard endeavor–but it was well
worth every minute of it," Mendes-LoBue said.
Tres Piños is one of five San Benito County schools that received approval from state and county health departments.
We're told the school will be doing hybrid learning until at least November and then they'll reassess based on direction from the CDC and
Department of Education.
Superintendent Mendes-LoBue said if they do get a positive coronavirus case, it's in their plan to shut down.