Districts continue meal distribution programs as classes begin
SALINAS, Calif. (KION) While students are doing distance learning at home across the Central Coast, many districts will still provide meals for kids this academic year.
The Alisal Union School District offers free meals to anyone enrolled in their schools, regardless if they are typically part of a free or reduced meal program or not.
The district distributes meals at all 12 school sites from 12:00 p.m. – 1:30 p.m. Monday through Friday, starting August 5. Wednesday also marks the first day of school for AUSD students.
While students are starting the school year at home, the need for food doesn't go away.
"We have students that are at home that are within walking distance that we want to ensure that if they're hungry during the day, they can pick up the meals themselves and the families that can come, come at this time," AUSD Associate Superintendent of Business Services Nancy Torres-Pfeiffer said.
Parents can either walk up to pick up their student's meals or they can drive up to the curb.
The meal distribution sites are as follows:
Alisal Community School, Bardin Elementary School, Cesar E. Chavez Elementary School, Creekside Elementary School, Frank Paul Elementary School, Fremont Elementary School, Dr. Martin Luther King Jr. Academy, Dr. Oscar F. Loya Elementary School, Jesse G. Sanchez Elementary School, John. E. Steinbeck Elementary School, Virginia Rocca Barton Elementary School and Monte Bella Elementary School.
In the future, the district also plans to provide an additional meal time in the evening to make services available for working parents.
"These meals would then be so that the parents are off of work, they can 
come by and pick up meals for their families and that would be their supper meal," Torres-Pfeiffer said.
The district also hopes to reach more kids in the future by delivery food to homeless kids, children with special needs and students in daycare.
"We know that those students can't come to pick up that meal. We know that their parents are working. That's why they're in daycare and the daycare provider can't leave the students alone to pick up the meals. So if they can't come, we need to go to them," Torres-Pfeiffer said.
In South Monterey County, Gonzales Unified School District offers meal pick up at La Gloria Elementary twice a week. They also deliver meals by bus at the pick up locations in the chart below.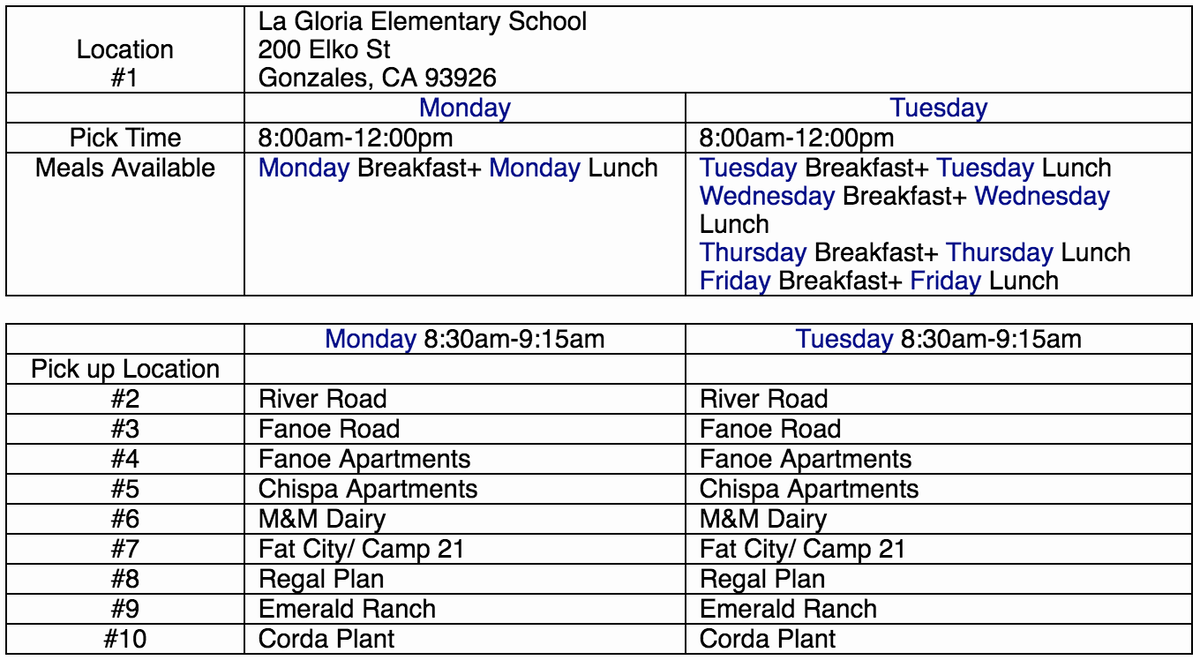 "There's some kids that live in a rural area and they only have one car in
their family, and if mom or dad had to go to work, they had no way to get
the meals at La Gloria, so our staff from the maintenance operations team,
they drive the buses out there and deliver the meals," GUSD Director of Nutrition Services Alvin Vitug said.
On Tuesday, students are given breakfast and lunch for all the remaining
days of the week.