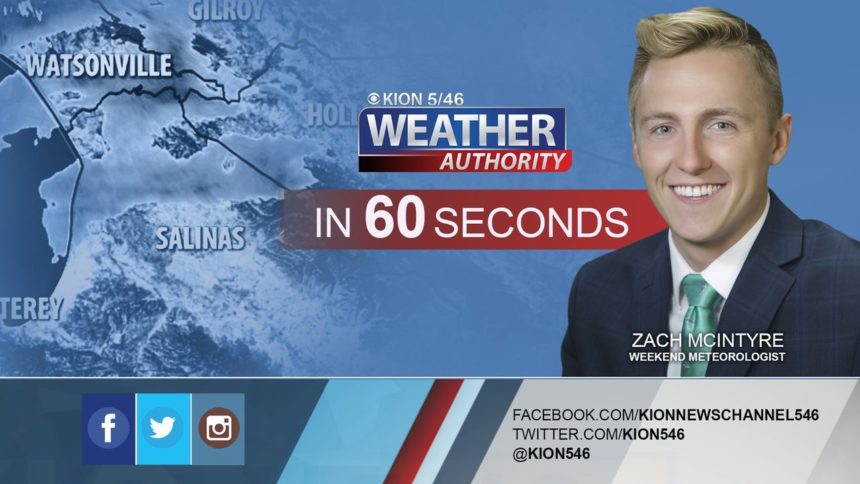 The strong ridge of high pressure that brought heat to inland areas this weekend will weaken into the early workweek. As a result, inland areas will cool down quite a bit. At the coast, lack of high pressure will mean a deeper marine layer, also cooling things down and making room for more persistent low cloudcover. After a cooler couple of days, some warming expected later in the week. Warmer morning lows may be even more noticeable.


Monday: Cooler for all areas with low clouds lingering on the coast throughout the day. Some breaks of sun for coastal cities, but more clouds than sun expected. Inland areas will also be cooler with the sea breeze reaching most inland valleys by afternoon. The breeze could get gusty at times! Expect coastal highs in the 60s with mid 70s to mid 90s inland.
Overnight: Low clouds and fog on the coast and nearby valleys. Expect lows in the low to mid 50s on the coast and mid 40s to mid 50s for inland valleys with 60s up in the hills.
Tuesday: Further cooling for inland spots. Highs will be in the 60s for most coastal areas with 70s to low 90s inland. Cloudy throughout the day on the coastline. Breezy at times.
Extended: Southerly flow will then take over mid-week. This will do a few things: keep some low clouds on the coast, especially on the north side of the bay, keep temperatures seasonable—both on the coast and inland, but low temperatures will warm with a slightly muggier air mass in place. We'll also have some high clouds streaming through occasionally which will likely lead to pretty sunrises/sunsets. As usual, expect winds in the valleys during the afternoons.

-------------------------------------------------------------------------

This week's normal temperatures:
--COASTAL CITIES--
LOW: 54ºF
HIGH: 69ºF

--INLAND CITIES--
LOW: 51ºF
HIGH: 86ºF

----------------------------------------------------------------------------
-The outlook from the Climate Prediction Center for July 20th-26th calls for the likelihood of ABOVE normal temperatures and near normal precipitation. Note: Little to no precipitation typically falls this time of year.

-El Niño/La Niña STATUS: Neutral
-Forecast into Winter: La Niña Watch

-Area drought status: Good to Abnormally Dry