Beginning To Cool On The Coast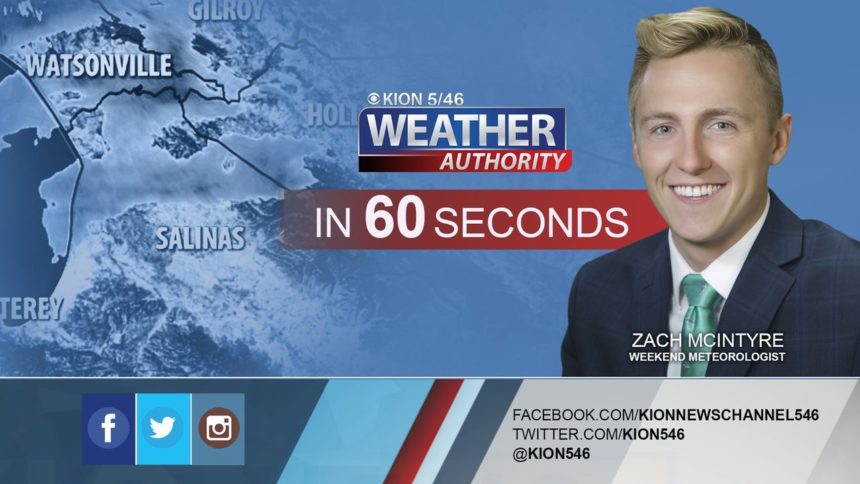 High pressure will begin to move east today, allowing for some coastal cooling. Inland, however, the air mass will be at its max temperature. By Thursday, all areas will be involved in the cooling trend and low clouds will likely return to the coast. Then, a trough of low pressure will dig into the Pacific Coast for the end of the week. It will bring cooler conditions, along with increased clouds, coastal winds, and perhaps some very light precipitation. The pattern will remain progressive, so the trough will move along by early next week, to be replaced by another ridge and warmer weather...


Wednesday: Mostly sunny and warm again on the coast with highs in the upper 60s to mid 80s--once again warmest on the Santa Cruz side of the bay. Inland areas will continue to warm up with highs in the upper 80s to around 100ºF. A few low clouds may linger on the southern end of the bay and likely thicken after dark. Breezy for the valleys in the late afternoon and early evening, then breezy over the ridge tops over the hills.
Overnight: Mostly clear with a few low clouds and possible fog near the coast. Expect coastal lows in the upper 40s to low 50s with a few areas in the hills only dropping into the low 60s.

Thursday: Low clouds will be more present on the coast, especially on the south side of the bay and all areas will be cooler. Coastal areas will top out in the mid 60s to mid 70s--warmest in the north--and still quite warm inland with 80s to mid 90s. Breezy at times in the afternoon.
Extended: Expect thicker coastal clouds on Friday with drizzle possible. Temperatures will cool all around with 60s-70s for highs. By Saturday, northwesterly winds will pick up on the coast and while it still may be a bit cool, temperatures will head upward into early next week as a ridge of high pressure builds back in. Temperatures will likely be highest on Monday, then slowly cool again through mid-week.

-------------------------------------------------------------------------

This week's normal temperatures:
--COASTAL CITIES--
LOW: 52ºF
HIGH: 67ºF

--INLAND CITIES--
LOW: 48ºF
HIGH: 81ºF

----------------------------------------------------------------------------
-The outlook from the Climate Prediction Center for June 17th-23rd calls for the likelihood of ABOVE normal temperatures and near normal precipitation. Note: Little to no precipitation typically falls this time of year.