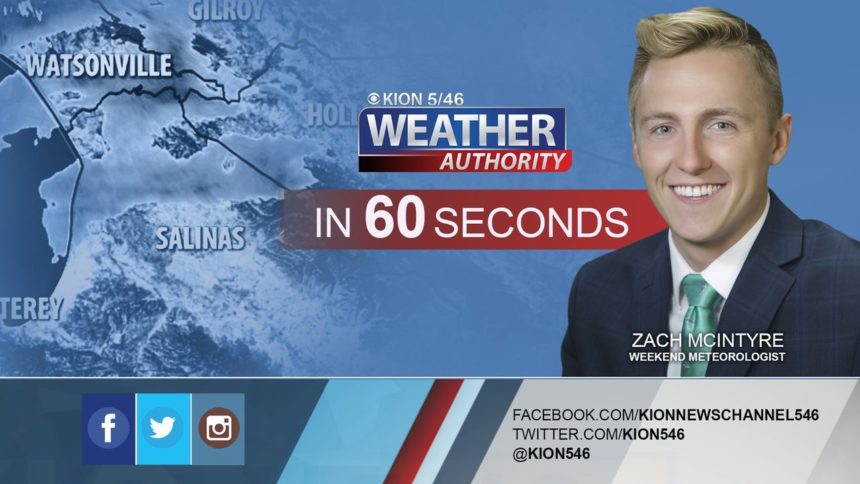 A big warm up is coming as we head into Memorial Day Weekend. High pressure starts to push in from the west Thursday, sending highs back above normal. However, a final push of cold air behind a big weather system to our northeast will actually reverse the warming trend briefly Friday. It will be back this weekend, however, with highs back above normal Saturday and then well above normal both on the coast and inland through Memorial Day. The forecast gets a little more complex mid-week next week, however, as a cut off area of low pressure approaches to the southwest. At the moment, it looks like it will add some clouds to the forecast and cool us down a bit, though southerly flow usually means warmer morning low temperatures. At the moment, no rain is expected, but it is worth watching.


Thursday: Mostly sunny with a few low clouds near the coast and occasional passing high clouds. Warmer, with coastal highs in the mid-60s to upper 70s—warmest on the north side of the bay—and upper 70s to mid-80s inland. Breezy in the afternoon and early evening.
Overnight: Low clouds fill in around the coast, bay, and inland valleys with clear skies elsewhere. Expect coastal lows in the upper 40s to low 50s with mainly 40s inland.

Friday: Mostly sunny and a touch cooler with coastal highs in the 60s to mid 70s and 70s to low 80s inland. Breezy again in the afternoon and early evening.

Extended: Temperatures will warm back up for the weekend with widespread 70s on the coast and 80s-90s inland all under mostly sunny skies. Increased clouds and cooler high temps expected by mid-week next week.
-------------------------------------------------------------------------
This week's normal temperatures:
--COASTAL CITIES--
LOW: 50ºF
HIGH: 66ºF

--INLAND CITIES--
LOW: 46ºF
HIGH: 78ºF
----------------------------------------------------------------------------
The outlook from the Climate Prediction Center for May 28th – June 3rd calls for the likelihood of ABOVE normal temperatures and near normal precipitation.

El Niño/La Niña STATUS: Neutral
Forecast into Summer: Neutral
Forecast into Winter: Trending toward La Niña

Area drought status: Good to Abnormally Dry