Warm Into The Weekend, Wet On The Way Out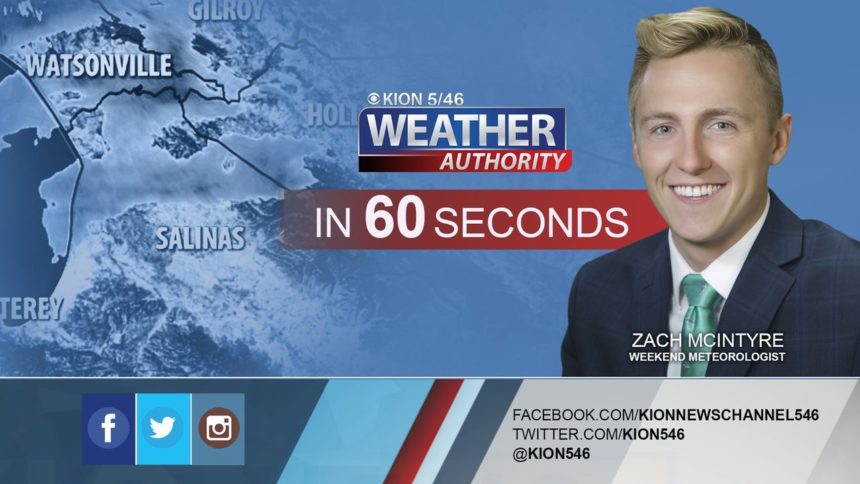 High pressure nudges in from the south Friday/Saturday, bringing sunnier, warmer weather. Increasing northwest winds on Friday, will likely cool the south side of Monterey Bay, though. The next storm system will arrive on Sunday bringing spotty light rain to the region. As the colder core of the system passes by on Monday, showers and even potentially thundershowers will be possible. High pressure then rebuilds next week with warmer weather expected.


Friday: Mostly sunny with increasing northwest winds. This will result in cooler temperatures for the Monterey Peninsula, but all other areas will be warmer. Expect coastal highs in the low 60s to upper 70s and 70s to low 80s inland.
Overnight: A few low and high clouds possible. Expect coastal lows in the upper 40s to low 50s with 40s to around 50s for most inland areas.

Saturday: Mostly clear to partly cloudy with increasing clouds late. Some drizzle possible on the coast after dark. Warm, with coastal highs in the mid 60s to upper 70s and mid 70s to mid 80s inland. Breezy for inland valleys in the afternoon.

Extended: A cold front will bring spotty rain to the region Sunday. Santa Cruz County will likely see periods of light rain while other areas may only see spotty showers. Southerly winds may be gusty at times around the Monterey Peninsula early in the day. Highs will cool into the 60s on the coast and remain in the 70s inland. The cold core of the system passes by on Monday which will likely lead to showers and potentially thunderstorms. Temps will remain a bit chilly. High pressure then builds in with a drying, warming trend for the remainder of the week.
-------------------------------------------------------------------------
This week's normal temperatures:
--COASTAL CITIES--
LOW: 49ºF
HIGH: 66ºF

--INLAND CITIES--
LOW: 45ºF
HIGH: 77ºF
----------------------------------------------------------------------------
The outlook from the Climate Prediction Center for May 22nd-28th calls for the likelihood of ABOVE normal temperatures and near normal precipitation.

El Niño/La Niña STATUS: Neutral
Forecast into Summer: Neutral
Forecast into Winter: Trending toward La Niña

Area drought status: Good to Abnormally Dry