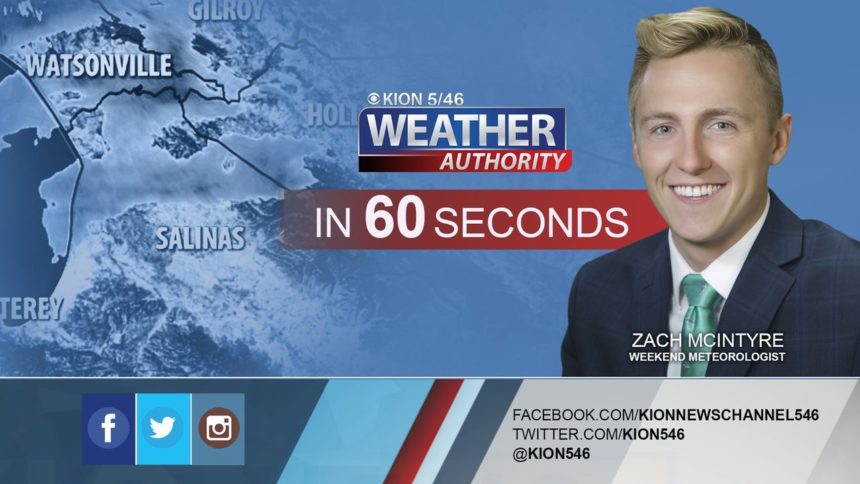 The influence of high pressure will wane over of the next couple of days, allowing for a cooler air mass to filter in. Surface onshore flow will also strengthen, helping further cool coastal areas and reintroduce low clouds. Still, the ridge to our south will do a good enough job blocking weather systems to our north that we'll only see occasional passing clouds. One system may get far enough south on late Sunday/early Monday bring a rogue shower to the region—that one is to be determined.


Wednesday: A few high clouds passing through with patchy fog possible near the coast this afternoon. Cooler, with coastal highs in the low to mid 60s and 60s to low 70s inland.
Overnight: Lows clouds near the coast with patchy fog. Expect coastal lows in the upper 30s to mid 40s with near to upper 30s inland.

Thursday: Low clouds along the coast and mostly sunny skies inland. Expect coastal highs in the upper 50s to low 60s with mainly 60s inland.

Extended: Friday will be just a touch warmer than Thursday with just a touch more sunshine, but you can still expect some low clouds near the coast. Temperatures will then increase again on Saturday with widespread 60s across the region. A weather system will arrive late Sunday into Monday with an isolated shower possible. Temperatures will cool briefly with most areas in the upper 50s to mid 60s.

The outlook from the Climate Prediction Center for February 19th – 25th calls for the likelihood of ABOVE normal temperatures and BELOW normal precipitation.

El Niño/La Niña STATUS: Neutral
(Winter) Forecast: Neutral

--------------------------------------------------------------------------

This week's normal temperatures:
--COASTAL CITIES--
LOW: 44ºF
HIGH: 61ºF

--INLAND CITIES--
LOW: 39ºF
HIGH: 64ºF