Red Flag warning for dry lightning, erratic winds issued through 5 p.m. Monday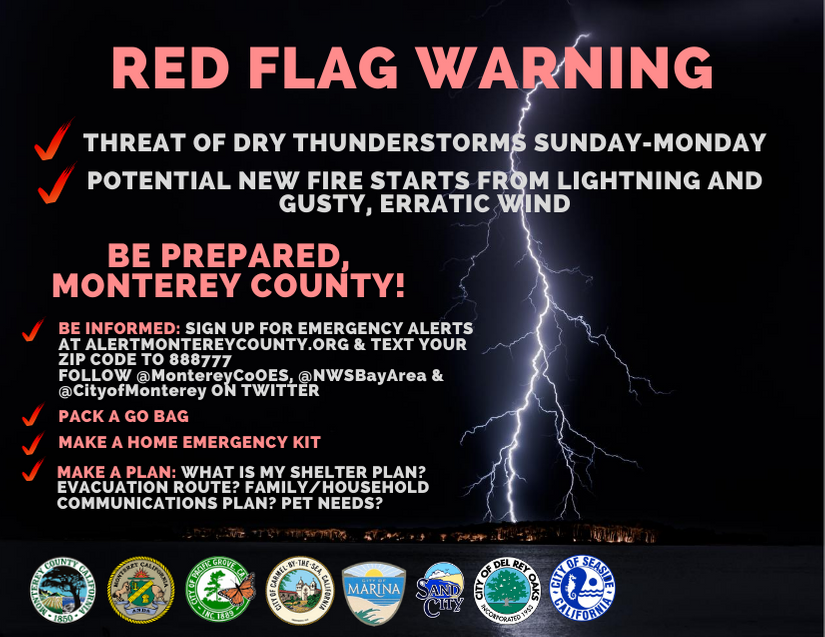 Officials are asking residents to be prepared as Monterey County is currently under a red flag warning that includes potential lightning storms.
The warning went into effect Sunday at 5. a.m. and is expected to last through 5. p.m. Monday. The National Weather Service issued the warning for erratic winds, dry lightning, and possible thunderstorms.
Officials say fire and police departments across the county are fully staffed and prepared with coordinated plans for potential weather situations in the area.
Here's how you can help and what you can do to stay prepared and informed:
Text your ZIP Code to 888777 or register at www.alertmontereycounty.org. Alerts as needed will continue through this system to keep you informed.
For current fire information, call 2-1-1
Report any incidents or potential fires to 9-1-1
Listen to and follow all emergency notifications - See the links on how to prepare - www.co.monterey.ca.us/2020Fires
Be Prepared / Stay Informed / Be Vigilant / Know Your Neighbors / Have a Plan / Build a Kit. VIsit www.ready.gov/ to learn more.