What to do after property damage from a natural disaster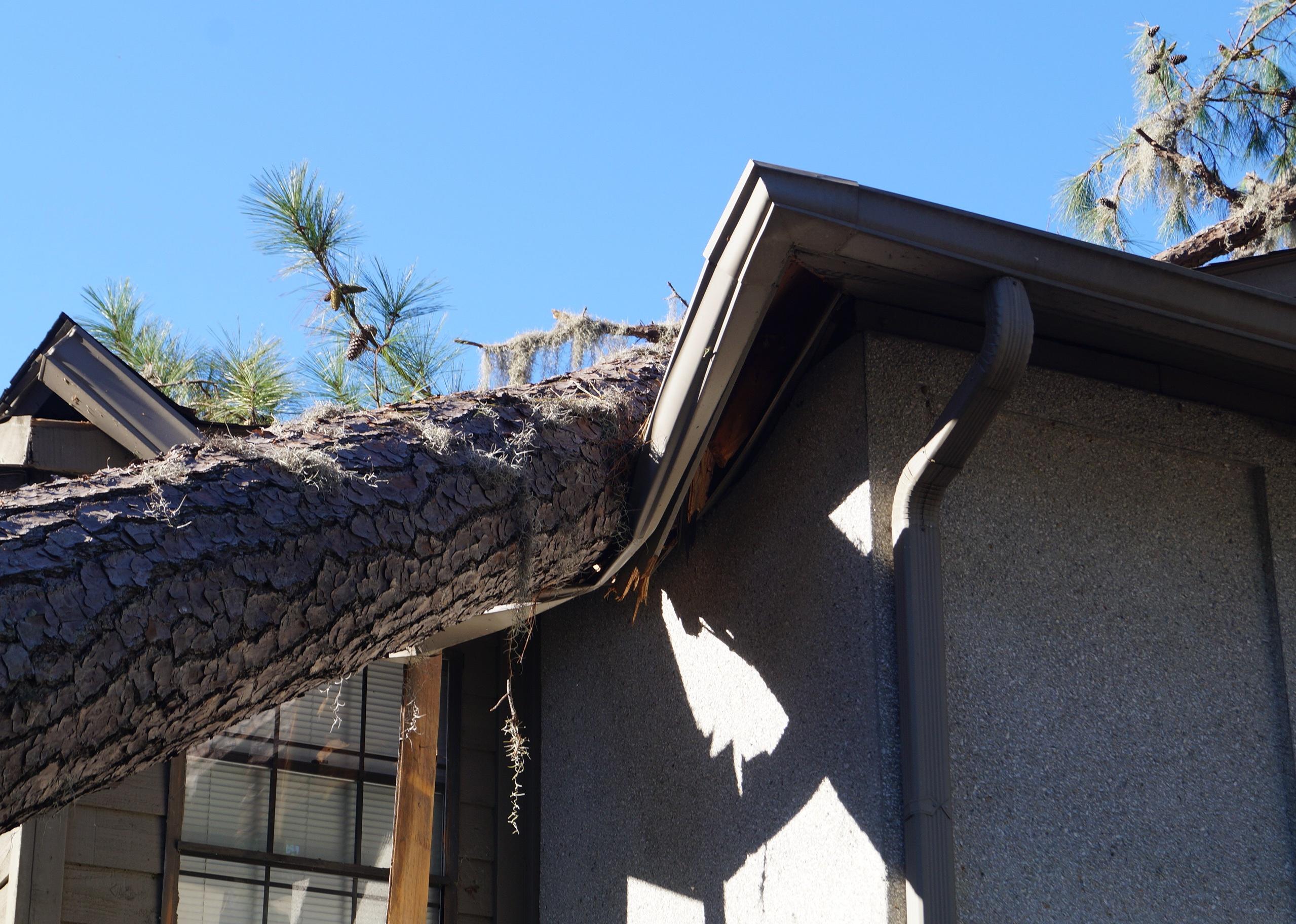 Josh Foote // Shutterstock
What to do after property damage from a natural disaster
Roof damage from tree that fell over during hurricane storm.
It's a worst-nightmare situation: Your home has been destroyed in an unexpected wildfire, hurricane, flood, or other catastrophe.
In 2022, at least 15 natural disasters occurred in the United States that each exceeded $1 billion in damages. These included Hurricanes Ian and Fiona in the Southeast; hail storms in the Midwest; floods in Kentucky and Missouri; and wildfires in the Southwest. It is estimated that $115 billion of property was insured against these disasters, marking an uptick in the percentage of property for which Americans are purchasing protection. Considering the increase in extreme weather events as climate change intensifies, it is prudent to insure your property—especially in vulnerable area such as coastal regions and forests. It's also wise for any property owner to consider keeping policies, contact numbers and property photos together in a safe place before disaster strikes.
In the wake of such a catastrophe, it may be difficult to think clearly, much less take the steps necessary to file an insurance claim and document damages. But it is crucial to be thorough and attentive when assessing any property and reaching out to insurers. It is all too easy to make simple mistakes or omissions that could end up costing thousands of dollars.
Using a variety of sources, Westfield compiled a list of helpful tasks to complete after experiencing property damage from a natural disaster. By following these steps carefully, you may avoid racking up massive payments on top of the emotional distress brought on by the disaster itself and consequent damage.
---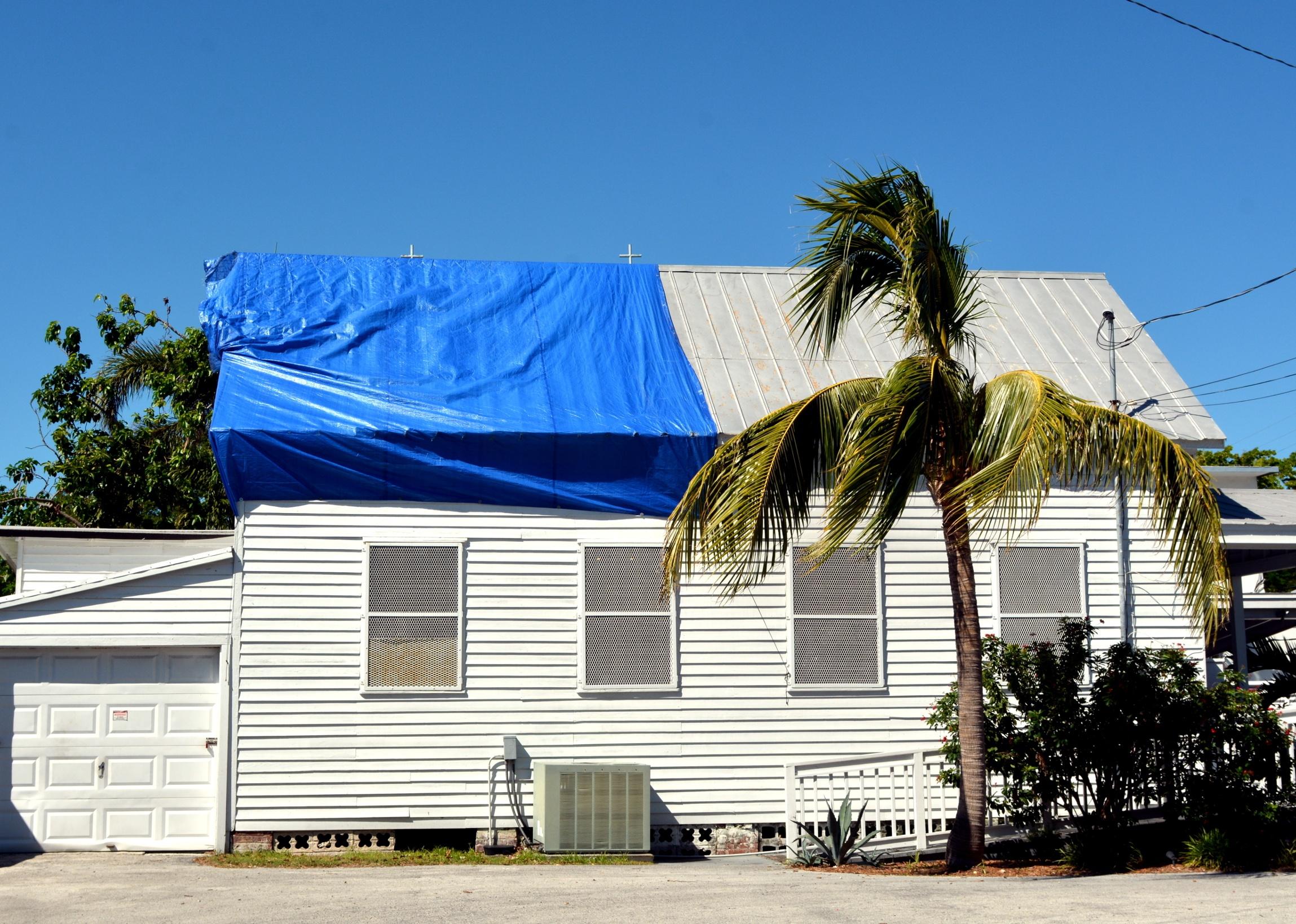 Chuck Wagner // Shutterstock
Take photos and videos to document the state of the damage
Blue plastic tarpaulin covers roof damage caused by a hurricane.
Documenting property damage through photos and videos right away is critical. Effective footage can demonstrate to insurers the extent of the harm done. Take multiple photos from different angles that focus on the details, including using rulers to show the size of damaged areas where possible. It would be wise to back these up to an online cloud system, or send them to family and friends to ensure they do not get lost. Additionally, as odd as it sounds, take photos of property that wasn't damaged—when placed alongside photos of the destruction, it can help contextualize the true extent of damage. Similarly, finding old photos showing destroyed property when it was still in good condition can accomplish the same. Your insurance company may also send a professional to inspect and appraise your property damage, so repairs or disposal can be determined.   
---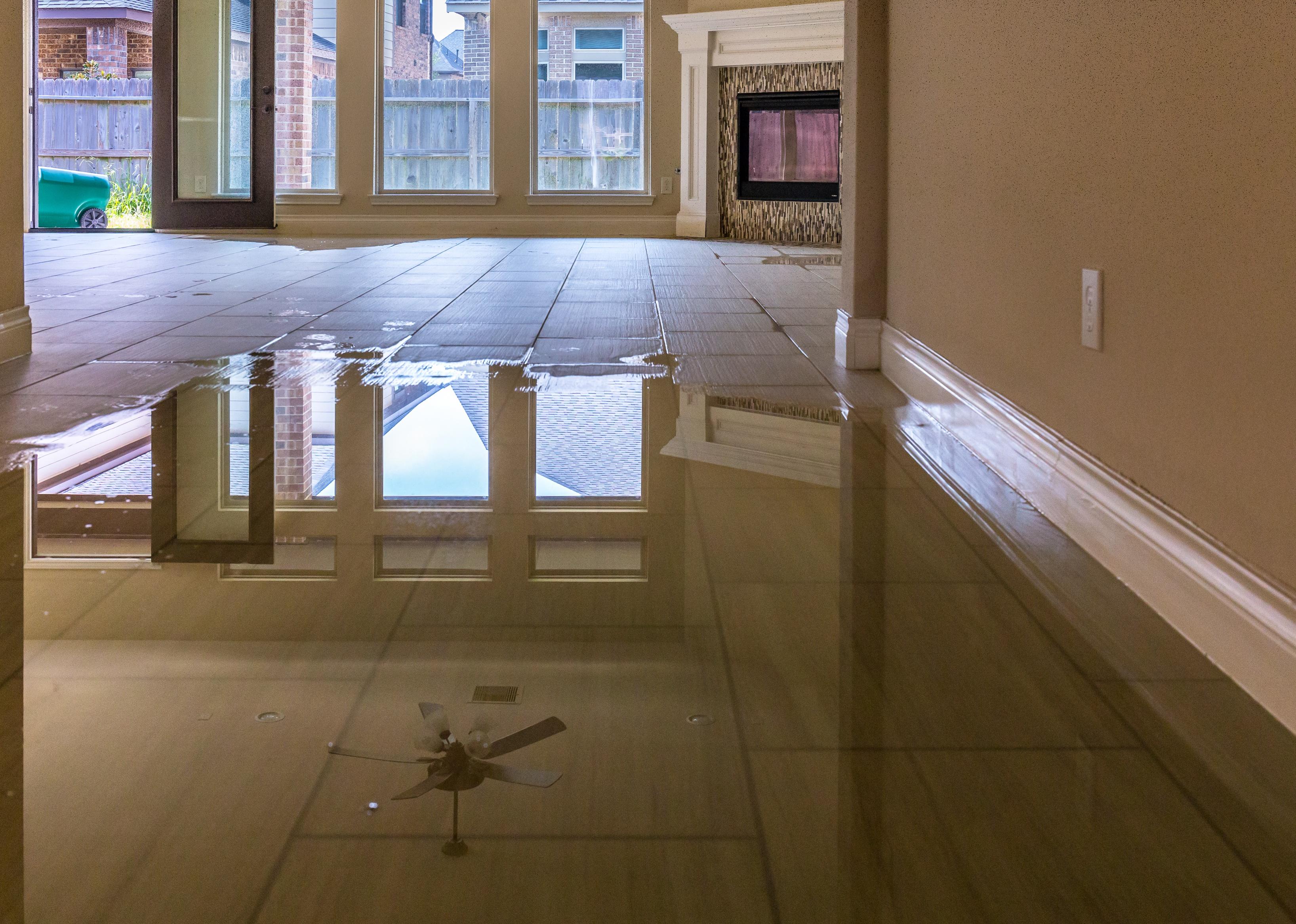 michelmond // Shutterstock
Make any emergency repairs necessary
Suburban house flooded by a hurricane.
To help ensure that no further damage is done to your home, secure the property right after any disaster. This can include covering vulnerable areas with tarps, boarding up openings with plywood, or removing valuable items. Insurance policies generally include provisions that require policyholders to protect property from further loss or damage. Keep receipts for wood, nails, or other materials used for emergency repairs, as these can help document your efforts. Again, make sure to photograph the damage both before and after fixing things.
---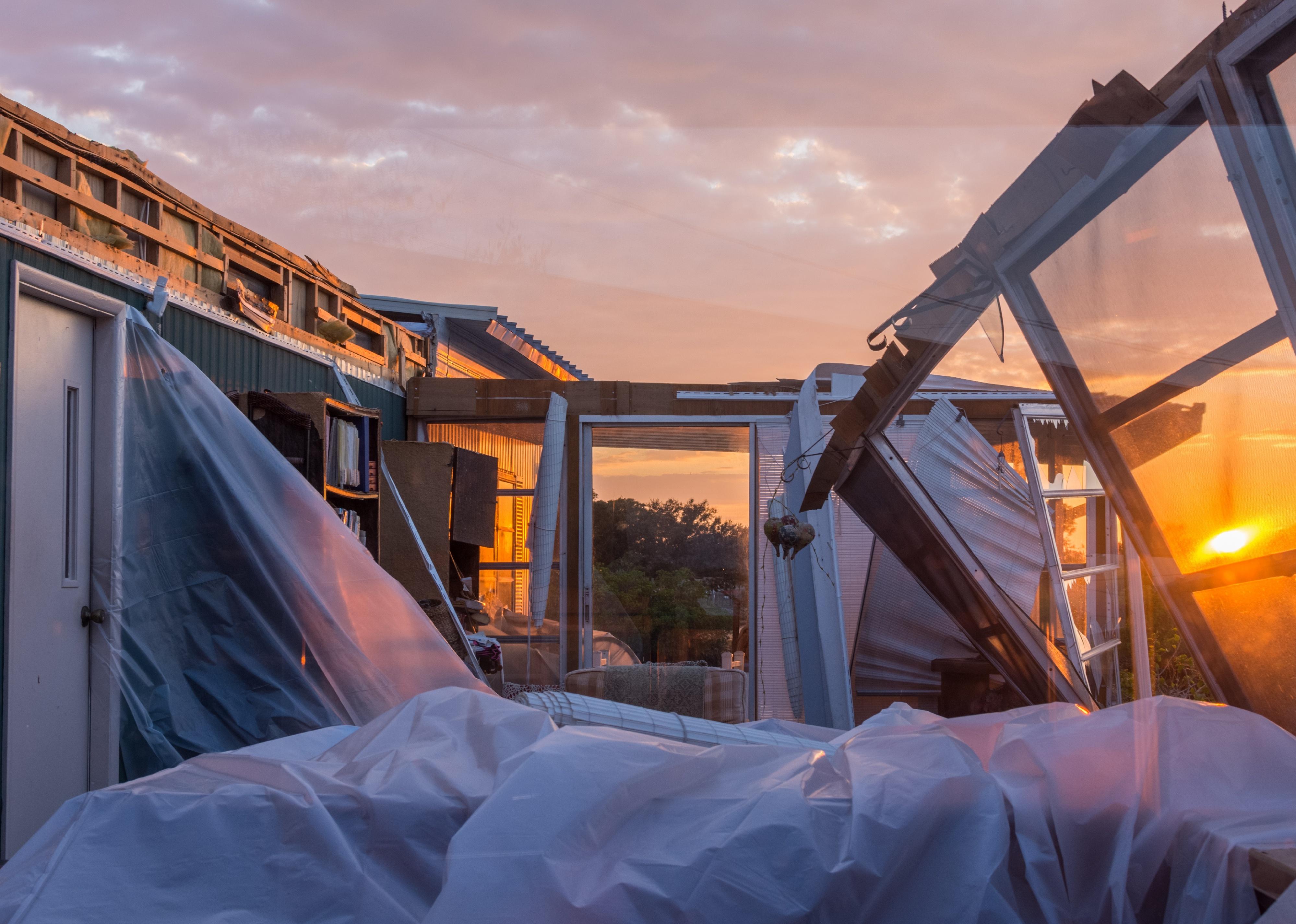 shannonstrengerpics // Shutterstock
Contact FEMA to inform it of the disaster and receive information about potential aid
Mobile home damaged by a hurricane.
This step should be first on your list after taking photos and fixing emergency repairs. Contact the Federal Emergency Management Agency and let it know what happened. Representatives will be able to inform you of any aid you may qualify for. This ranges from grants to cover additional expenses beyond the coverage of insurance up to $37,900, to lodging expenses for those displaced from their homes, and many other aid categories. FEMA not only assists homeowners, but also renters who suffer from property damage; FEMA grants do not have to be paid back. Current disasters FEMA is supporting include the coronavirus pandemic, Hurricane Ian, Hurricane Nicole, and wildfires. Individuals can register with FEMA either online or by calling 800-621-3362.
---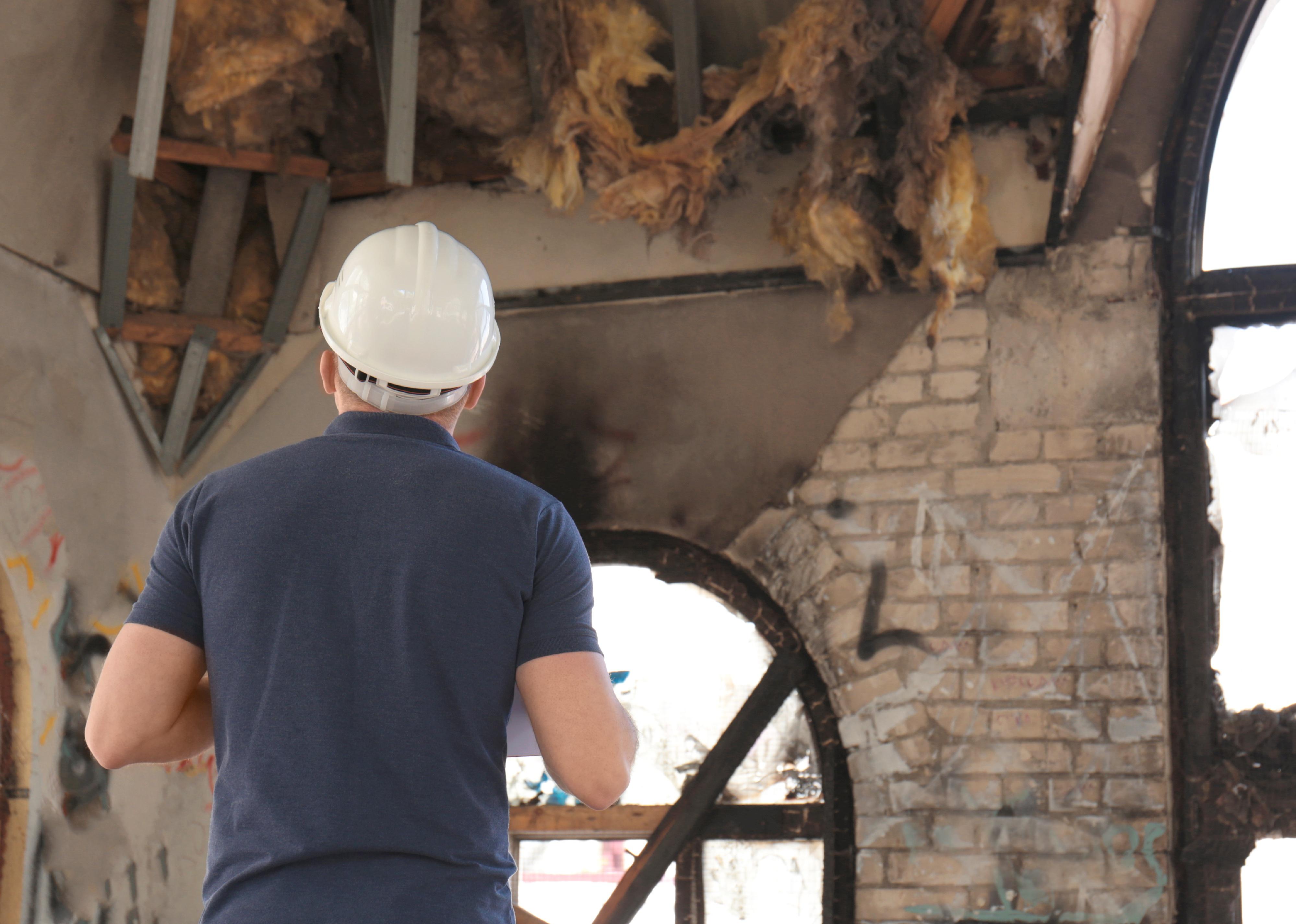 Africa Studio // Shutterstock
Contact your homeowners insurance company and additional insurance companies with which you hold natural disaster policies
Insurance adjuster inspecting damaged building.
The policies that can cover damages after a natural disaster include renters insurance, home insurance, water damage insurance, flood insurance, and medical insurance. Act quickly to take inventory of the policies you have invested in and reach out to get claim numbers. Make sure to read through your policies carefully to enter into conversations with a good understanding of what is and isn't covered. Finally, keep a record of all correspondence you have with insurers to be able to follow up and make sure that you're providing your insurance carrier with the necessary information to help your claim along through the process.
---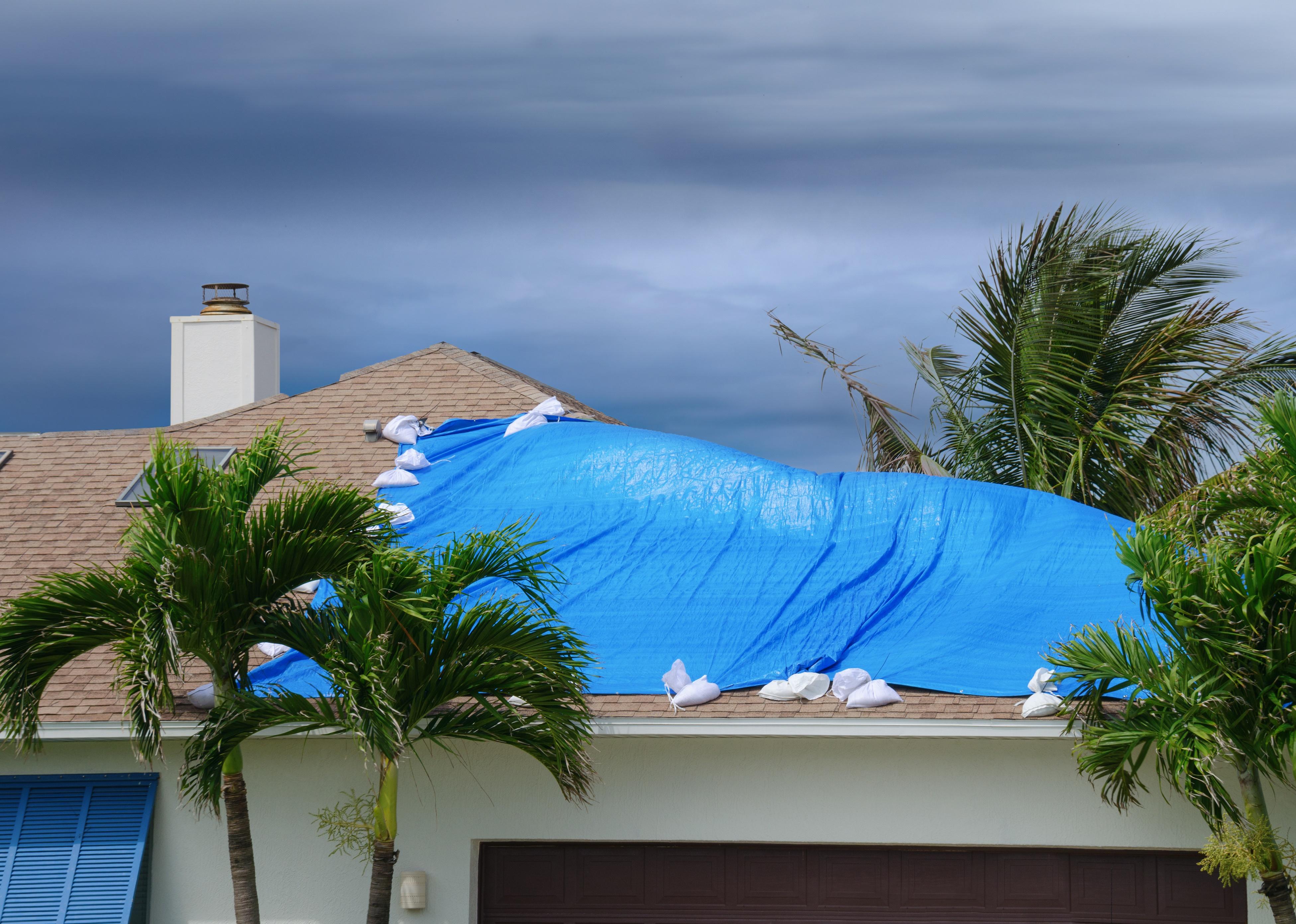 Michael O'Keene // Shutterstock
Contact your mortgage servicer
Storm damaged roof with a protective blue tarp over a hole.
You may incur unexpected financial costs after a natural disaster, which could make your monthly mortgage payments nearly impossible to pay. If this is the case, you can reach out to your mortgage servicer and request mortgage forbearance. This involves pausing payments for a concrete amount of time set by you and your servicer after talking through your situation. Usually, forbearances are available for six-month periods, with a possibility for extension. Be aware, however, that after this timeline is through, you may be responsible for making up for your missed payments by making higher monthly contributions. To equip yourself with the necessary knowledge to enter into conversations with your mortgage servicer, call 800-569-4287 to talk with a housing counselor from the Department of Housing and Urban Development.
This story originally appeared on Westfield and was produced and
distributed in partnership with Stacker Studio.
---