Europe retains Solheim Cup after stunning comeback against USA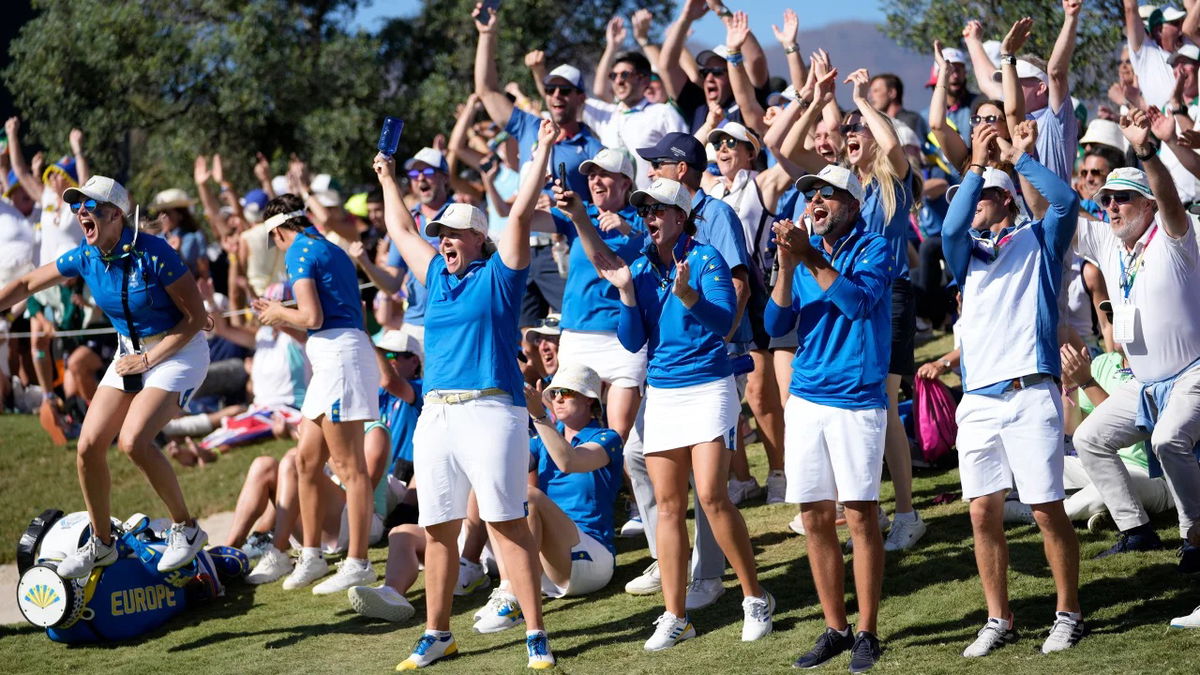 By Jack Bantock, CNN
(CNN) — Team Europe retained the Solheim Cup on Sunday, staging a remarkable late fightback to tie 14-14 with Team USA at Finca Cortesin Golf Club in Andalucia, Spain.
Home hero Carlota Ciganda defeated Nelly Korda in the penultimate singles match to reach the 14-point threshold the hosts needed to retain the cup, though an outright win was denied when Lexi Thompson beat Emily Pedersen in the closing matchup.
It marks the first ever tie in the 18-edition history of the biennial event.
For European captain Suzann Pettersen, who made nine playing appearances at the Solheim Cup, it pens another happy chapter in the her glittering story at the tournament.
"I think it's meant to be. It came down to Carlota [Ciganda], in Spain, in her own hands," Pettersen told Sky Sports.
"We have the best team. I'm so proud of them, they play with their heart.
"There is no such thing as giving up, no matter what challenge is ahead. We got off to a rough start, but we don't look back – the sky's the limit."
Ciganda, congratulated personally by King Felipe VI after starring with a perfect 3-0-0 record, was full of praise for her captain.
"I have many feelings right, I'm so happy just to do this for Suzann, for Spain," Ciganda said.
"When I saw Suzann on 16, she told me a couple of things, and I was like, 'I'm just going to do this for her, because I love her and she deserves this.'"
Team USA, captained by Stacy Lewis, will only have to wait a year to exact revenge. The 2024 Solheim Cup sees a return to even-numbered years at Robert Trent Golf Club in Virginia, a scheduling change made to avoid clashes with the Ryder Cup, which tees off in Rome on Friday.
Festival of golf
It was all teed up for a grandstand finish.
The Americans had threatened to make a procession of proceedings, surging into a 4-0 lead after the Friday morning foursomes, but Europe – buoyed by a stunning hole-in-one by Pedersen – steadily clawed their way back.
The hosts had closed the gap to 3-5 by the start of Saturday, and quickly accelerated their pursuit. Starring displays from Linn Grant, Leona Maguire and Ciganda helped Europe level the scores at 8-8 heading into Sunday's decisive singles matches.
Spanish sun blazing, it was a festival atmosphere for a partisan Finca Cortesin crowd baying for a European three-peat, the first tee grandstand a blend of blaring music, chants, flags and fancy dress.
Yet the visitors looked to be in a party-spoiling mood. The leaderboard quickly became a sea of red as Megan Khang, Rose Zhang, and Danielle Kang surged into early leads against Grant, Maguire, and Charley Hull respectively, delighting the outnumbered – but nonetheless noisy – American contingent behind the ropes.
Again though, Europe rallied, a stunning long putt from Gemma Dryburgh helping her pull away from opponent Cheyenne Knight, with the irrepressible Maguire similarly racing away from rookie Zhang up ahead.
Yet with Lilia Vu, a two-time major winner in 2023, making light work of Madelene Sagström and Kang cruising against Hull, the contest remained on a knife-edge.
'Incredible' crowd
First blood went to Europe, Maguire confirming a dominant 4&3 (four up with three holes to play) victory over Zhang to give the hosts the lead for the very first time in the week.
Ireland's Maguire looked to be holding back tears in the wake of another stellar Solheim Cup performance. The 28-year-old stole the show on her 2021 debut in Ohio, routing Jennifer Kupcho in the singles, and was near-faultless again against the rising star in the women's game.
"It feels incredible," Maguire told Sky Sports.
"The Irish fans this week have just been phenomenal and it felt like I was playing at home. It was just the energy I needed for today."
Team USA soon retook the lead as Khang and Kang's wins were confirmed in rapid succession, the latter toasting her triumph in a whirlwind of fist pumps.
Europe's playing vice-captain Anna Nordqvist eased past Kupcho to reset scoring to deadlock, but none of her four leading teammates held an advantage of more than one as Thompson and Pedersen made the turn.
A stone-faced Hall cut a frustrated figure after halving her match with Lee, having led by two with four to play, and salt was quickly rubbed into the wounds by Vu and Angel Yin clinching points at the expense of Sagström and Evian Championship winner Celine Boutier.
Fightback
Up by two, the pendulum was swinging back across the Atlantic, only for Caroline Hedwall to re-energize the European team.
The Swede was a picture of passion after a crucial putt on the penultimate hole, but steadied herself to edge past Ally Ewing and push her side to within a point.
With Thompson cruising at three up with four to play against Pedersen, it heaped enormous pressure on Sweden's Maja Stark to win her all-rookie matchup against US Open champion Allisen Corpuz.
The 23-year-old Stark rose to the challenge emphatically, beating Corpuz 2&1 to level the scores at 13-13 before taking her seat to watch the decisive two showdowns.
Home hero Ciganda teed off at the 17th knowing that preservation of her one shot lead against Korda would be enough to retain the cup. Unbeaten all week, the Spaniard added one final point to spark euphoric scenes, her teammates flooding onto the green to celebrate.
Yet a few hundred yards back at the tee, Thompson and Pedersen were waiting to finish their match. After the crowds eventually dispersed, the American halved the hole to secure her point, confirm the overall tie, and provide the cue for European celebrations to begin again.
The-CNN-Wire
™ & © 2023 Cable News Network, Inc., a Warner Bros. Discovery Company. All rights reserved.