Warriors super fan passes away; Oakland animal shelter looking for loving home for his 2 dogs
By Andre Torrez
OAKLAND, Calif. - If you weren't familiar with Golden State Warriors super fan, Lloyd Canamore, perhaps you've seen his iconic house in Oakland.
Mr. Canamore famously painted his West Oakland home on 35th street in the team's colors – blue and gold. We reported on the struggles Canamore experienced, when he came close to losing the home on more than one occasion. In 2020, Stephen Curry boosted a Gofundme for Canamore on his Instagram page. It ended up raising more than $290,000. The home had been in the family for more than 50 years.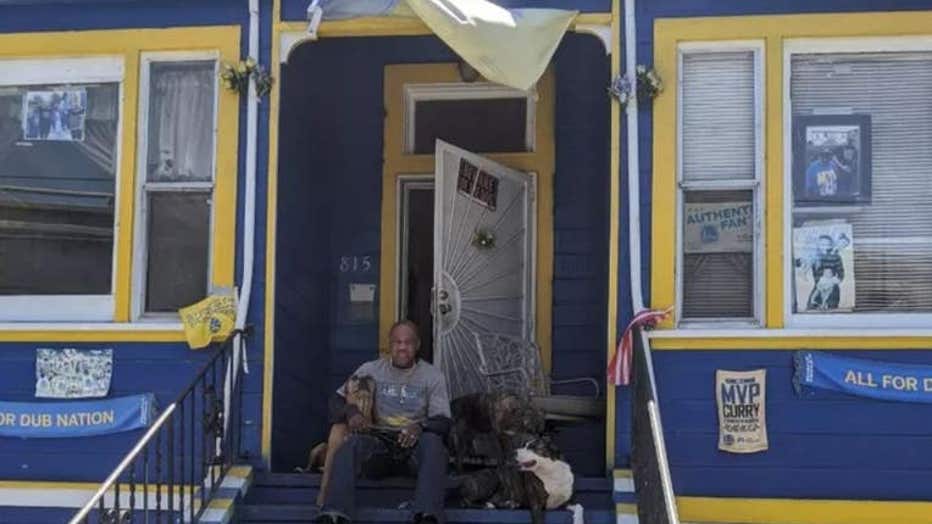 Lloyd Canamore's connection to his home on 35th Street in West Oakland runs a half a century deep, and so does his connection to the Golden State Warriors. Photo credit: GoFundMe post.
Sadly, Canamore recently passed away, and his two dogs were taken in by a local shelter.
Ann Dunn, the director of Oakland Animal Services, said a neighbor called animal control and the two dogs, Rambo and Baby Miracle, ages 10 and 6 respectively, were placed under their custody on August 31.
This week, volunteers from the shelter put out a call on social media, asking for 'Dub Nation' to come to their aid. They would like someone to adopt both dogs and to keep the pair together.
"The dogs are mixed, pit and terrier," Dunn said on Thursday. The social media post said the "sweet dogs are heartbroken to lose their beloved human."
They are showing signs of stress living in a shelter.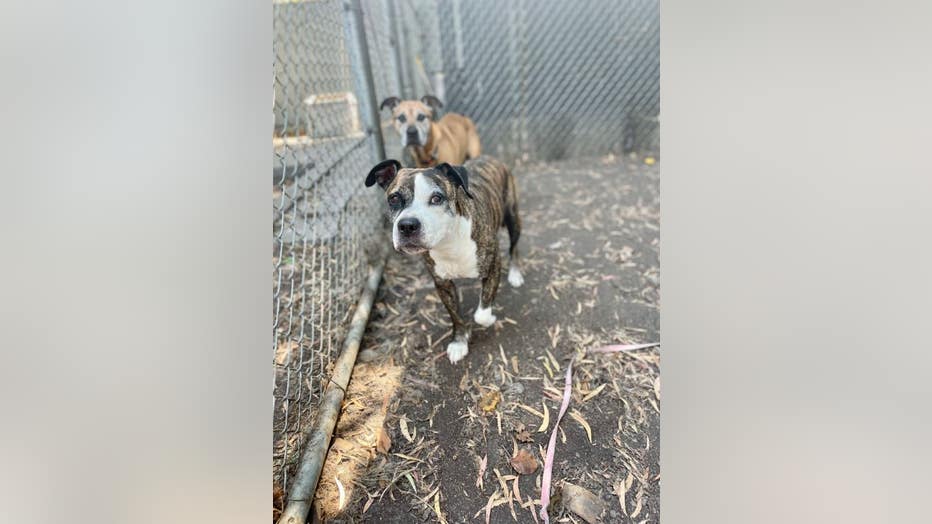 Dunn said Rambo and Baby Miracle are anxious around new people and getting them to come out takes some coaxing, but they have seen a veterinarian and are in good condition. Rambo is about 50 pounds, while Baby Miracle weighs in at 62 pounds.
The shelter has a 95% live release rate, something Dunn considers a very high rate for an open admission municipal center. She attributes that success to dedicated volunteers who show a lot of energy. The shelter also has a "great foster program." Adoptions have more than doubled in the last few years, Dunn said.
"We know that Lloyd was a beloved part of the Warrios family so we're sure there's someone out there who can make his family members part of their family," one of the shelter's social media posts read.
While most shelters are under resourced, Dunn said Oakland Animal Services has some 250 volunteers and 1,000 people fostering animals in a given year. 
#DubNation we need you! Lloyd Canamore of the legendary Warriors House recently passed. His dogs Rambo & Baby Miracle are at OAS & need a new home together! These sweet dogs are heartbroken to lose their beloved human! Can you adopt? #StrengthInNumbers #Dubs #Warriors pic.twitter.com/CxdkAab4SA

— Oakland Animal Services (@oaklandsanimals) September 14, 2023
The call for a loving home has seen a great response in the digital realm, but that hasn't translated to a permanent living situation, nor forever human companionship for these pooches.
"We've seen a great response on social media, interest and concern, but no one came in yet today," said Dunn.
"It's gonna take a unique person who is gonna appreciate that these dogs have been through a lot of trauma," Dunn said. "We're looking for someone who is patient."