Owners arrested on child neglect charges after two children drowned at their San Jose daycare
Update by Ricardo Tovar on Oct. 13, 2023, at 1:49 p.m.- San Jose Police announced that two suspects were arrested in connection to an incident where three children fell into a pool at a South San Jose daycare, and two later died from drowning after being transported to the hospital.
Homicide Unit Detectives prepared arrest warrants for the two operators and owners of Happy Happy Daycare on the 1000 block of Fleetwood Drive. Nina Fathizadeh, 41, and her mother Shahin Gheblehshenas, 64, of San Jose self surrendered at San Jose Police Headquarters.
Both were charged and booked into Santa Clara County Jail. Both were charged with child neglect resulting in death, child endangerment, and criminal negligence, per San Jose Police.
Law officials identified the victims as Payton Cobb, of Hollister, and Lillian Hanan, of San Jose. Both children were one year old. The Santa Clara District Attorney's Office said that Gheblehshenas was at another unlicensed daycare and Fathizadeh was making breakfast at the time of the drownings on Oct. 2.
A total of four children were under their care at the time, one was left in a crib, and the other three children were left unsupervised in the patio area and were out of her sight, claim the DA's Office. One daycare worker called out sick, so the four children were left in the care of Just Fathizadeh.
"The play area is set up in the backyard adjacent to a pool surrounded by a five-foot fence. Police found gardening equipment and other potential hazards in the backyard," said the DA's Office.
They will be arraigned at Santa Clara County Superior Court on Dec. 6. If convicted they could face jail time said the Santa Clara District Attorney's Office.
Fathizadeh went into the yard at least five minutes later and found a two-year-old floating in the pool and unconscious, said the district attorney's office. She attempted CPR and her brother, who was alerted to the situation, found two other children (a 16-month-old and an 18-month-old) floating in the deep end and were later pronounced dead from drowning.
The Santa Clara District Attorney's Office said the gate to the pool had been propped open and that allowed the toddlers to get into the pool. Neither owner checked the gate before the children were let into the backyard, "despite the fact that it had been propped open several times before to water some plants," said investigators.
"There is a responsibility to watch over little children in your care like a hawk," District Attorney Jeff Rosen said. "Now it is our responsibility to make sure that these defendants are held accountable for this avoidable and heartbreaking tragedy."
ORIGINAL STORY
By Henry Lee KTVU
SAN JOSE, Calif. - The state levied $11,000 in penalties and temporarily suspended the license of a San Jose day care where two young girls drowned, and a third child was rescued.
Additionally, the state has threatened to revoke the daycare's license.
However, child safety advocates argue that falls short of addressing the issue adequately.
"It's too little, too late. These children have drowned. These families and communities are affected forever," said Doug Forbes, who founded the Meow Meow Foundation in memory of his late daughter Roxie, who drowned at a summer camp in Los Angeles at the age of 6.
Happy Happy Daycare, located on Fleetwood Drive in San Jose, did have a 5-foot gate around its pool that passed state muster. However, Forbes insists that officials should mandate additional safety measures such as video surveillance, alarms, water safety assessments, and emergency response plans to be shared with parents.
"These are just a few of the very things we could ask of these home daycare facilities, or we do not license them if they have pools on the premises," Forbes emphasized.
Forbes underscores the necessity of responsible adult supervision, noting that safety features alone are insufficient.
"Humans are humans. We are fallible. We are not setting out to kill or harm children," he said.
Another advocate, Kristina Andrews, who lost her 3-year-old daughter Kourtney to drowning and runs Kourtney's Kause to raise awareness of the drowning issue, shared a video showing an alarm triggered when she opens a door leading to her pool, which is enclosed by a gate and has a pool cover.
Regardless of state mandates, she emphasizes that the primary layer of protection must always be vigilant adults. Andrews acknowledges that the San Jose incident is not an isolated occurrence.
"It's shocking that so many got out of sight, but not shocking in the sense that children do things in pairs, right, or in groups," she said.
One-year-old girl from Hollister identified as one of two drowned children at San Jose day care
Two children drowned and one child was rescued after falling into a swimming pool at a residential daycare in South San Jose Monday morning.
Police told our sister station KPIX that they responded to a daycare on the 1000 block of Fleetwood Drive in the Almaden Valley around 9:05 a.m. to perform a welfare check after "several juveniles" fell into the pool.
Officers, along with medical personnel responded to the scene. Three children were taken to local hospitals in a critical status, police said.
Despite life-saving efforts, two of the children were pronounced dead at the hospitals.
Law officials identified the victims on Tuesday as Payton Cobb, of Hollister, and Lillian Hanan, of San Jose. Both children were one years old.
Meanwhile, the status of the third child was later updated to non-life threatening.
Additional details about the incident were not immediately available.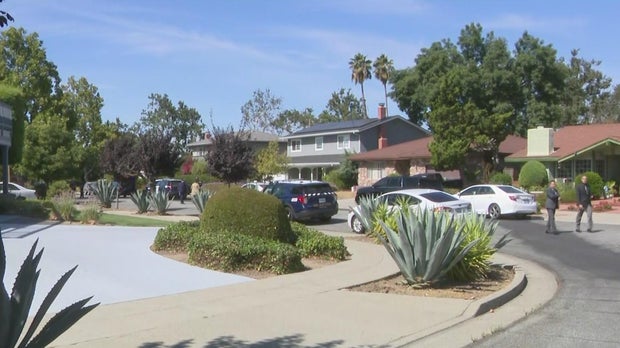 "I've been shook up all day," said Chuey Anima, who lives nearby. "I literally live right across the street so I see them being dropped off every day and picked up. It wrecks my heart."
Police said Monday that per county protocol for all child deaths, a joint investigation will be launched with the department's Homicide Unit and the Santa Clara County District Attorney's Office.