Aaron Rodgers says "I'm not going to San Fran" during AT&T Pebble Beach Pro-Am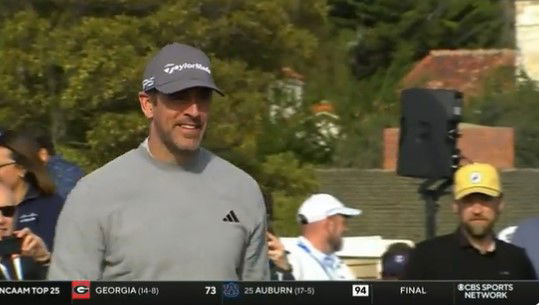 PEBBLE BEACH, Calif. (KION-TV)- Aaron Rodgers has yet to decide whether he'll return for a 19th NFL season, but when he does, we know at least one team that might like to have him and another that likely won't be in the running. Days after ESPN reported the Packers would prefer to move on from the star quarterback in 2023, Raiders wide receiver Davante Adams teased Thursday that Rodgers will soon be relocating to Las Vegas.
Hours later, Rodgers himself has potentially ruled out a separate destination, joking during CBS' broadcast of the Pebble Beach Pro-Am that he won't be playing for the 49ers.
"You got any news you wanna share with us?" pro golfer Colt Knost jokingly asked Rodgers while the quarterback prepared for his next hole on the course. The reigning NFL MVP smiled, paused, and then seemingly ruled out his childhood team.
"I'm not going to San Fran," Rodgers said.
"I'm not going to San Fran" - Aaron Rodgers 😬

📹 @GolfonCBSpic.twitter.com/N0PsWJnVb9

— NFL on CBS 🏈 (@NFLonCBS) February 2, 2023
The 49ers notably spent this week discussing their QB situation, which has both Trey Lance and Brock Purdy recovering from serious injuries. Coach Kyle Shanahan said definitively that former starter Jimmy Garoppolo, a 2023 free agent, will not be back with the team.
But apparently San Francisco, which reportedly sought to acquire Rodgers before drafting Lance in 2021, won't be back in the market for A-Rod. On the other hand, it's possible the 49ers are indeed interested in Rodgers, but that Green Bay has refused their inquiries in an effort to keep Rodgers out of the NFC, assuming he isn't back with the Packers.
Earlier Thursday, Adams stirred speculation of a move out west, but to Vegas. The longtime Packers star wide receiver, whose 2022 trade left Rodgers and Co. without proven weapons for much of the season, promised to answer fan questions on Twitter. One asked which neighborhood Rodgers will be moving to, and Adams' answer left little room for interpretation: "Mine."
Mine. https://t.co/1w4jX42A0q

— Davante Adams (@tae15adams) February 2, 2023
The Raiders and their own longtime quarterback, Derek Carr, have already public forecast a split, so Las Vegas is expected to be active in search of a new signal-caller.
They were a logical candidate to pursue Tom Brady, had the former Patriots and Buccaneers star not announced his retirement this week. But with Brady off the table, Rodgers could be the next-best target via trade.
Rodgers was famously asked after the 2005 draft when he was passed over by his childhood team the 49ers with the number one pick, "How disappointed are you that you will not be a 49er?"
Which Aaron replied, "Not as disappointed as the 49ers will be that they didn't draft me."
What a line from Aaron Rodgers when the Packers drafted him 16 years ago today. That's swagger. pic.twitter.com/V81tXcoI02

— Field Yates (@FieldYates) April 24, 2021
The 49ers selected Alex Smith, who is also competing at the AT&T Pro-Am this year.