Monterey County hospital events represent progress in fight against COVID-19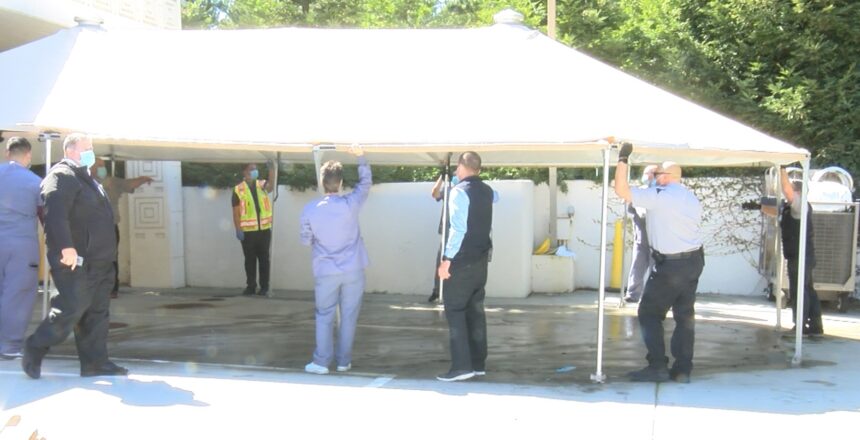 SALINAS, Calif. (KION)
In Salinas, Salinas Valley Memorial Hospital (SVMH) is the site of a COVID-19 vaccine clinic with about 700 people coming through daily to get their shot. On Friday, Salinas Valley Memorial Healthcare System is vaccinating eligible at-risk residents and workers, including people age 65 and older, agricultural and food sector employees and educators.
"I was afraid to get the vaccination but then I thought I'm more scared to get sick. I'll be happy when I can take off this mask so I can hear and talk," says Salinas resident, Sally lucero.
SVMH is down to just one COVID unit, with seven COVID patients and just two people in isolation. On December 16, the hospital reported 51 patients in four dedicated COVID-19 units.
A spokesperson with SVMHS tells KION they have distributed around 12,000 vaccines so far.
A staff nurse says she alone administered at least 2,000.
"Finally, we're seeing the end of the tunnel, like we're having now more people very excited to be here, people getting a lot of vaccines, it's just amazing," says Nurse Nubia.
A half-hour away in Monterey, the Community Hospital of the Monterey Peninsula is taking down their COVID-19 respiratory triage tent. The county's test positivity rate is down to just 3.1% over the last week and the hospital has new safety protocols in place.
"If you look at the group that's taking down this tent, you'll see that there are people from all over the hospital, this was a whole hospital effort, every last person in the organization has contributed and as a community member, I'm so grateful and to my colleagues, I'm so glad we've gotten to a better place," says CHOMP Emergency Physician Casey Grover.
A CHOMP spokesperson says they treated a total of 625 in-patients throughout the last year.
With vaccines continuing to pour into the county and COVID-19 cases in the region continuing to drop, Emergency Department Director Susan Burnell says taking down the tents is a step in the right direction.
"The stress of the families, the stress on our staff, the surges, all of the nurses and our staff worked overtime during the surges so it's been quite a year. The coming down of this tent is like a victory for us. We have survived the pandemic and so has our community," says Burnell.