101 construction inches closer to completion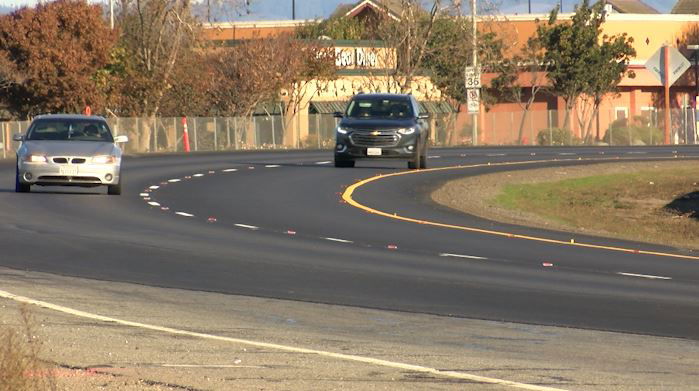 If you've driven through Salinas over the past year, you've likely run into construction on US Highway 101. The multi-year, multi-million dollar project inches closer to the finish line. It's a project that's been driving many people crazy for months. The dust and loud noises overnight have been a nuisance for people who live along the corridor and they're excited for the new road to be finished.
"They've been doing this highway improvement project. the result has been great. freshly paved lanes, wider lanes, good on ramps and off ramps," says Salinas resident Don Clary.
Clary has nothing but good things to say about the result so far. But, the process leading up to tha had him and his neighbors up all night and covering their windows and vents.
"The noise and dust all night long 6 days a week 5 days a week is become and issue," says Clary.
That dust was a product of an asphalt recycling operation, according to Caltrans.
"Broken up asphalt materials are crushed and screened and these materials usually go back into the roadway," says Caltrans District 5 Public Information Officer Kevin Drabinki.
For the past year, construction on Highway 101 through Salinas has been part of a $36 million dollar pavement rehabilitation project. Caltrans tells KION these types of projects usually happen only once a generation as the finished product usually lasts 20 to 25 years.
According to residents who live near the construction, it can be very loud.
"They start at like 530 at night and work until early in the morning," says Clary.
Caltrans agrees with the noise and say overnight is the best way to get the project completed on time.
"There's a lot of disruption and heavy equipment and vibration going on at times, but we are unable to close lanes during the lanes during the day because of the high volume of traffic on 101 and we're trying to do as much as we can at night," says Drabinki.
Equipment and the staging areas have also become a headache for residents because of their proximity to property lines.
"I had no problem walking around my house in the middle of the night with their lights illuminating my house," says Clary.
As the project heads into winter, Caltrans plans to make good progress.
This spring, a series of 6 on and off ramps will be reconfigured at highway 101 and Laurel. According to Caltrans, that project will signal the final phase of the rehabilitation project. After that, permanent guardrail work and lane-striping will be the final touches.
With everything on time so far, completion is still scheduled for this upcoming summer - weather permitting.