Cal Fire releases report on environmental damage caused by Carmel, River Fires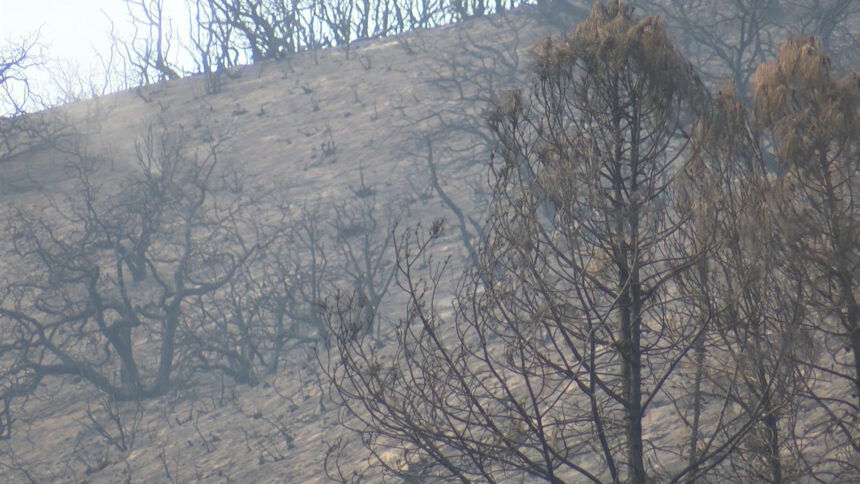 MONTEREY COUNTY, Calif. (KION) Cal Fire has released a report on environmental damage caused by the Carmel and River Fires, and the agency says areas affected by the fires have an increased risk for debris flow, flooding, rock-fall and sediment loading. This especially applies to downslope property and infrastructure.
The River Fire started on Aug. 16 and the Carmel Fire started on Aug. 18. The two fires burned a total of 55,000 acres and destroyed 103 structures.
The report was put together by the Watershed Emergency Response Team.
In the report, WERT said it found that most soil burned at low to moderate severity in the burned areas, but the highest concentration of moderate soil burn was found on east-facing slopes in the eastern side of the River Fire and upslope of River Road.
Runoff is expected to be four to eight times greater that flow condition before the fire within and downstream of burned areas, and the areas at highest risk include Trampa Canyon, Big Creek, Limekiln Creek, Parker Canyon and a tributary to El Toro Creek.
The team expects a 26 to 30-fold increase in erosion rates due to the fires compared to previous conditions. This increased risk is for the year following the fire, and the risk should decrease by about 50% in the second year after the fire.
Officials identified 67 VARs or "Values at Risk" between both areas burned by the River and Carmel Fires. A few of those properties are located off Pine Canyon Road.
Megan Caskey, who lives nearby, said her neighborhood has discussed the possibility of landslides. "I don't think my home will be affected as much because of where it sits and how high up it is. We had a foundation built because we are on a hill. I think the people on top are certainly afraid of that," said Caskey.
Recommendations included in the report are the use of early warning systems for homeowners in debris flow- and flood-prone areas, increased awareness among affected residents, monitoring and maintenance of road drainage and storm drain infrastructure, temporary signage in areas potentially at risk and disposing of burned debris and vehicles.
Read the full WERT report here.
The county has also released a map with preliminary findings about which structures, roads, culverts and other areas that may potentially at risk. See the map and search addresses below.