Man suspected of starting fire in Hollister arrested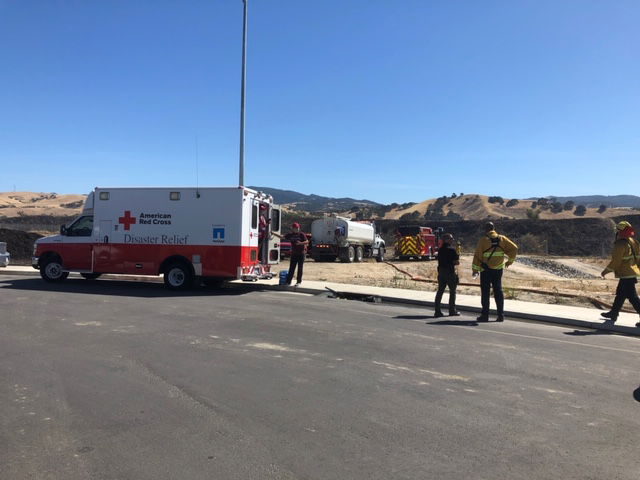 HOLLISTER, Calif. (KION)
UPDATE 6/19/2020 10:47 p.m. The San Benito County Sheriff's Office has arrested a man suspected of starting a fire near Hospital Road Thursday.
A detective with the Sheriff's Office worked with the Hollister Fire Department to identify 43-year-old Robert Tanner as the suspect.
Witnesses say he left an unattended fire that re-ignited when the wind picked up in the afternoon. It eventually grew to about 6 acres.
A fire near Klamath Way in Hollister got dangerously close to homes at one point.
"When I got here, it was full blown everybody out here trying to wet down the fences on the houses nearby here, including mine," said one resident who didn't want to be named. "It got pretty close. I would say it got to about 75, 100 feet away from the house."
Tanner was arrested on and charged with PC 452, a felony arson charge. According to California Legislative Information, that charge is when a person is accused of unlawfully causing a fire by recklessly setting fire, burning or causing to be burned, any structure, forest land or property.
The Sheriff's Office is investigating whether Tanner is responsible for any of the 14 fires that have been considered suspicious since January.
Anyone with information is asked to contact Det. Leist at jleist@sbcsheriff.org.
UPDATE 6/18/2020 4:30 p.m. A fire burning in the area around Hospital Road and Colorado Way took crews four hours to put out.
Cal Fire and Hollister Fire responded, but the San Benito County Sheriff's Office is investigating.
It is one of 92 fires that have happened in the area so far this year, and the chief said it is not normal.
14 of the 92 fires are considered suspicious.
PREVIOUS STORY: Residents are being asked to avoid the area around Hospital Road and Colorado Way while crews respond to a fire.
Hollister Fire and other agencies are at the scene. County officials said it is currently six acres and not contained.
There are currently no evacuations.