Pacific Grove High School holds graduation ceremony at raceway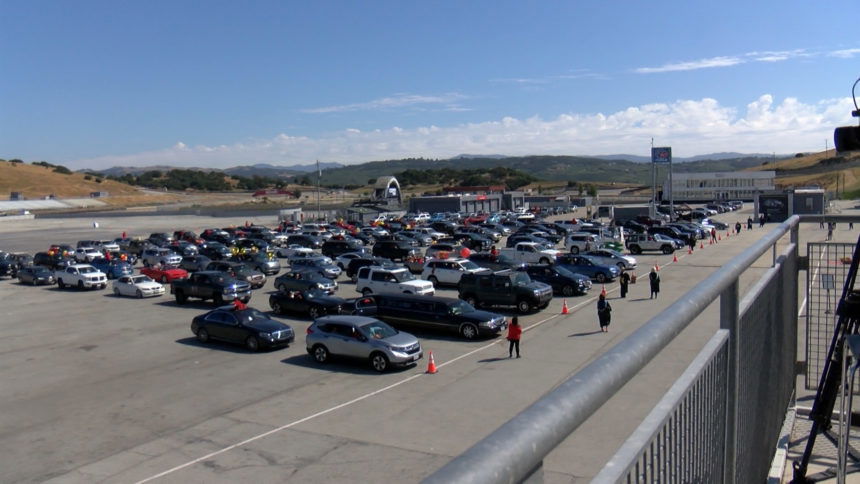 Watch the playback of the ceremony here.
MONTEREY COUNTY, Calif. (KION) It was one for the history books for Pacific Grove High School's Class of 2020 on Friday, where hundreds gathered at the WeatherTech Raceway Laguna Seca in Monterey County to celebrate the graduates.
Graduating seniors and their families from PGHS got cheers by their teachers as they crossed the finish line under a checkered flag at the end of the ceremony. The senior class leaders of 2020 never thought they would have ended their high school careers this way.
"I thought we were going to be out for like two weeks. And then they were like .. it was like March 13.. and then they completely called off school for the rest of the year and it was crazy," said Mikayla Gamboa, the PGHS senior class treasurer.
Adjusting to online learning and studying for AP tests was a huge challenge. But now, all that hard work is far behind them. Cars of different shapes and sizes, with flags and streamers, all lined up in the parking lot at the legendary raceway to commence the beginning of the future.
Students sat on top of their cars and listened to school dignitaries encourage them to move ahead in life. One of those speakers was senior class president Emma Evans.
"For me it was so awesome just to like see everyone in their cars and being able to decorate your cars, like that's something that you don't usually do to that extent," said Evans.
The COVID-19 pandemic was not easily forgotten there. Everyone had to wear a mask while social distancing in their cars.
"I'm just grateful we didn't have to have a virtual ceremony like a lot of schools in the area. We got to see everyone in person," said Noor Benny, the PGHS senior class vice president. "Like no matter if it was six feet apart or sitting close together. We still got to see each other and be with each other."
"There were so many people like teachers, parents especially that went above and beyond to make the last three months so special for us," said Evans.
PREVIOUS STORY: Pacific Grove High School is holding its graduation ceremony at Weathertech Raceway Laguna Seca at 4 p.m. Friday.
The school had to change its graduation ceremony plans in response to the COVID-19 pandemic.
KION's Josh Kristianto will have more on the graduation tonight at 11 p.m.
Join us tomorrow as we livestream the Marina, Seaside, Central Coast and Monterey High School graduations beginning at 9 a.m.