Family in Big Sur finds their missing dog with a special link to late daughter
KION UPDATE: 5/28/20
A Big Sur family whose dog went missing on Saturday say the dog has been located. The family contacted KION News to say they were heading to Pasadena to pick the dog up.
We will pass along the details of this happy reunion when we receive them.
---
BIG SUR, Calif. (KION) - A family in Big Sur is looking for their beloved Australian Shepherd, Canela. She went missing on Saturday after she chased one of her owners down their long dirt driveway which leads to Highwway 1 near Garrapata State Beach.
Libby Barnes, Canela's owner, was in her vehicle and heading to town for groceries and didn't know Canela was following her. Dani De Sola, Libby's wife later called to make sure Libby had picked up Canela after she chased the car. That's when they realized Canela was missing, however.
"Dani later asked, texted me in town, do you have the dog and I said no and so then we immediately went on to search for the dog," says Libby Barnes.
Home surveillance footage from a neighbor's property along Highway 1 shows the dog coming down the driveway to Highway 1.
It also shows someone in a truck, with an attached camper-trailer, stopping stopping to pick up Canela.
"So, it was obvious they were trying to keep her safe," says Barnes
The truck was then seen driving down the driveway next-door to Canela's home.
The area is sparsely populated and the road leading to the Trout Farm (the road the truck is seen driving down and then coming back out of in the surveillance video) is not easy to navigate in a large vehicle.
"We're trying to get an image of the license plate number but the truck didn't have a license plate on the front, however it is a very identifiable truck and trailer," says Barnes.
It's assumed by Dani and Libby, the person who found Canela left the area with her as well.
Canela has not yet been found and she is not microchipped.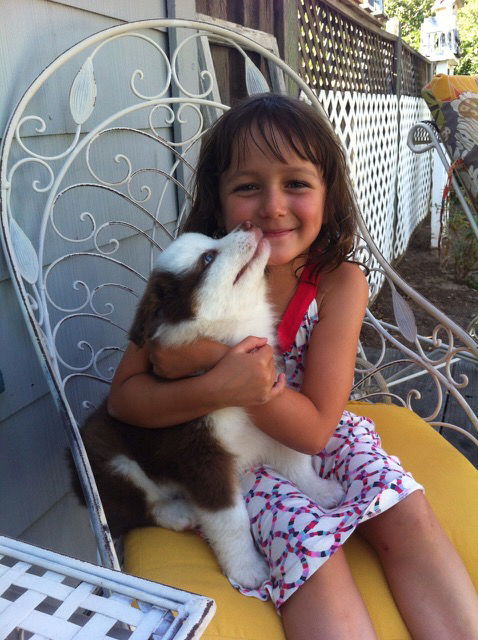 What makes this more than a dog-goes-missing story is Canela's connection to the Big Sur family.

In 2019, The family lost their only child, Olivia, to a disease called Diffuse Intrinsic Pontine Glioma, or DIPG, an incurable and terminal condition that most often affects children under 10.
Canela and Olivia were best friends. They were inseparable. When Olivia returned home from the hospital for the last time and entered hospice care at our home, Canela climbed into bed beside her, comforting her in her final days and hours.
"Olivia and Canela, you know, fell in love instantly and just like so many other family dogs she was such as integral part of the family," says Barnes.
Olivia died January 16, 2019. She was 9 years old.
Canela is not only the family's precious link to their daughter Olivia, but Canela has also been a steadfast companion during a time of deep grief. The family is devastated by Canela's disappearance and is eager to spread the word about their special dog.
The family says they have reported the dog missing to the Monterey County Sheriff's Office and to the Carmel Police Department with no leads or new information.
"We're just trying to go through every single means we can and exhaust everything until we find her," says De Sola. "We're kind of running out of options now," she concluded.
If you have seen Canela, or the Truck in the surveillance video, please contact the Monterey County Sheriff's Office.
The vehicle you see was identified by a friend of the family as a second generation 2017-2020 Ford F-150 Raptor in magnetic dark grey (with optional 17 inch forged aluminum bead-lock wheels. It was pulling a white camper/5th wheel (maybe Sandpiper 30-32' length).