Salinas man arrested for allegedly evading law enforcement, vehicle theft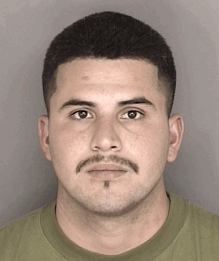 SALINAS, Calif. (KION) A Salinas man is facing several charges after Monterey County Sheriff's Office detectives said he evaded them in a stolen vehicle.
The suspect, 24-year-old Christopher Moreno, is a gang member on Post Release Community Supervision for illegally having a gun, according to the Sheriff's Office.
Last Thursday, detectives said they saw him driving his vehicle on Country Meadows Road in Prunedale, and when they tried to stop him, they said he took off. He allegedly drove recklessly at speeds that got up to more than 100 miles per hour.
When they got into Salinas, detectives said Moreno got out of his vehicle and stole another one nearby.
Moreno was then spotted driving south on Highway 101 in the vehicle. Deputies said they tried to stop him, but he took off and got up to more than 100 miles per hour again. The chase ended when Moreno apparently drove through a fence and onto a ranch in the 28000 block of Encinal Road.
Deputies said the vehicle was abandoned at the property, but they were unable to find Moreno on the property.
On Wednesday, investigators found and arrested Moreno in the 200 block of Central Avenue. He was booked into the Monterey County Jail for allegedly violating his Post Release Community Supervision, evading and resisting law enforcement, vehicle theft, burglary, looting and weapons charges.