Legislation to protect farmworkers during COVID-19 pandemic introduced by Central Coast assemblymember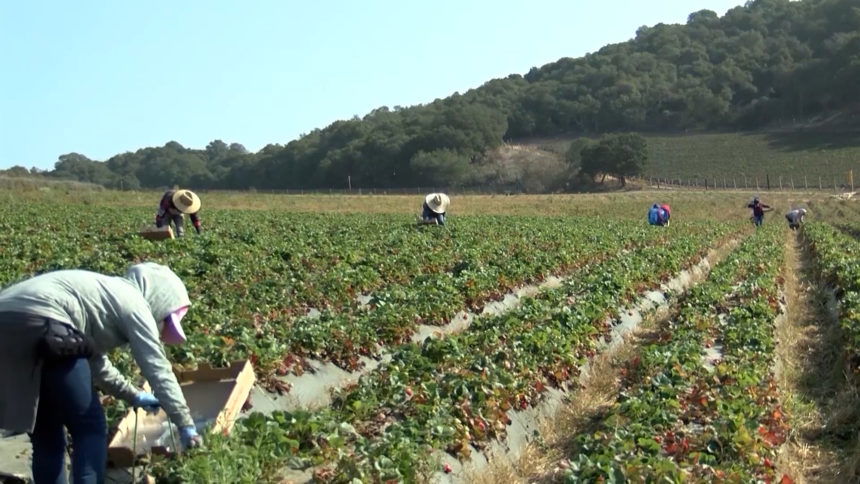 SALINAS, Calif. (KION) To help protect California farmworkers during the COVID-19 pandemic, Assemblymember Robert Rivas (D-Hollister) introduced legislation intended to protect their health, safety and economic security.
Rivas said the California Farmworker COVID-19 Relief Package will expand sick leave for workers, provide an extra $3 per hour in hazard pay, give a tax credit to farmers who offer overtime work to their employees, fund an outreach campaign intended to teach workers about personal protection practices and help expedite temporary housing to allow for social distancing and avoid overcrowding.
"California's farmworkers play a critical role in our state's $50 billion agriculture industry, and in our nation's food supply," said Rivas, who grew up in farm worker housing. "Governor Newsom has rightly designated agricultural workers as an essential infrastructure workforce. But as we ask our farmworkers to continue working through the COVID-19 pandemic, we must take action to protect their health, safety, and economic security. Protecting farmworkers is not just our moral duty, it is also critical for preventing disruptions to our food supply."
Rivas said California farms are facing labor shortages and grocery stores are seeing empty shelves. He also said that there are up to one million farmworkers in the state, and many of them do not have access to health care. Demand is higher because people are stocking pantries during the Shelter in Place, but Rivas said that could mean overcrowding for farmworkers who lack access to health care, leaving them vulnerable to COVID-19.
"My grandfather was a farmworker, and I saw how tirelessly he worked under difficult conditions," said Rivas. "Farmworkers are the unsung heroes who help keep our country fed. I feel a personal responsibility to make sure we take care of them, just like they take care of us." 
Rivas said the California Farmworker COVID-19 Relief Package, or AB 2915, would:
Expand paid sick leave from 3 days to 2 weeks.
Provide extra hazard pay of $3 per hour for farmworkers experiencing higher health and child care costs.
Provide direct subsidies to county, employer and private child care providers who provide care to the children of farmworkers.
Codify comprehensive Cal/OSHA guidance on how agricultural businesses should protect and train farm workers, including by giving them face masks and personal protective equipment.
Fund an outreach campaign of public service announcements and signs in English and Spanish to teach farmworkers about Cal/OSHA guidance.
Provide temporary housing for farmworkers to prevent overcrowding and allow for social distancing.
Authorize a survey of farmworker housing conditions, including labor camps and H-2A housing, resulting in statewide recommendations to keep farmworkers healthy and safe.