Monterey County District 4 seat eyed by four candidates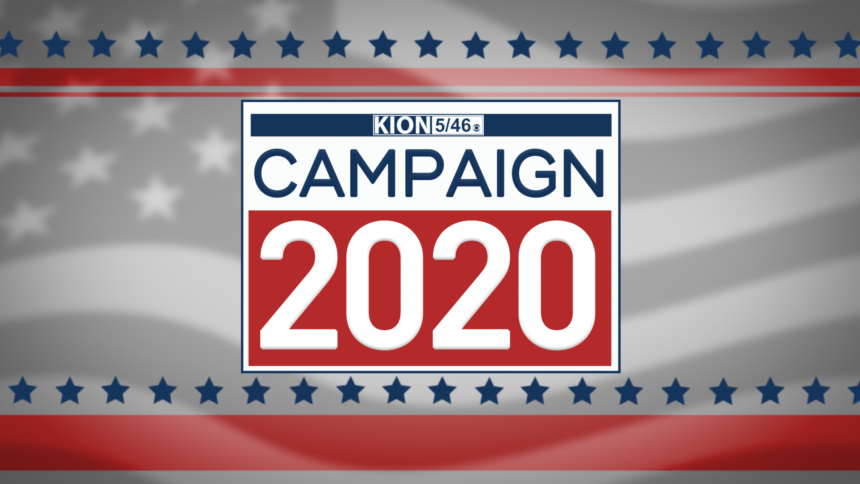 SALINAS, Calif. (KION) With Monterey County Supervisor Jane Parker not seeking re-election, the district 4 seat is now up for grabs by four candidates this year.
A few weeks ago in the San Miguel neighborhood of Salinas, door cam footage shows a woman clearly stealing two Steve McShane campaign signs from a front lawn before driving away.
McShane says he has experienced more stolen and vandalized signs this time around than he has ever have. Wendy root Askew says some of her signs have also been hit.
It is set to be a contentious battle for a Monterey County supervisor seat that covers cities like Seaside, Marina and southwest Salinas.
Four candidates are vying for the spot: Seaside Neighborhood Improvement Commission Chair Alex Miller, Former MPUSD Board President Wini Chambliss, top aide to Supervisor Parker - Wendy Root Askew and Salinas Councilman Steve McShane.
All discussed why they were the best candidate in a forum at the National Steinbeck Center in January.
"It's time to have new leadership, new face and a younger voice to make our area the best area it could possibly be," said Alex Miller, during the forum.
"I present myself again as one who represents the un-represented, who represents those who don't have a voice," said Wini Chambliss.
Askew and Mcshane have already raised the most money out of the group: at least over $100,000 in campaign contributions each.
KION sat down with the two of them to talk over issues, including water needs in the region and the use of a controversial desalination plant in Marina. On this point, there seems to be divergence.
"I think the Pure Water Monterey project appears to have a good option to provide sustainable water sources into the future. We also are going to have to continue looking at desalination as an option," said Askew. "We're incredibly lucky that we live where we live and we have access to desal as a potential solution moving into the future."
"First of all, Salinas has played a leadership role in conveying AG wash water to the peninsula for recycling. We can do more when it comes to recycling. It's more cost effective than desal," said McShane. "When it comes to desal, ultimately it's got to be a regional solution. We've already shown that it's not necessarily a slam dunk with the Cal Am project, so we need to think beyond that. What's next?"
The campaigns have taken a bitter turn in some respects as seen from the campaign sign incidents. Both Askew and McShane deny having any prior knowledge about the campaign sign thefts and vandalism and both deny directing anyone to do so. Askew calls it unacceptable behavior.
These two candidates are simply focused on running the best campaign they can.
"I really love where we live. I believe in sustainable growth that preserves why we live here alongside allocating housing and offering better job opportunities for our residents. This is in my heart and soul," said McShane. "We can balance the environment with tourism and agriculture. I believe I have the experience, and more importantly, the track record of getting things done that matter most to voters."
"I'm raising my son here as a fifth generation Monterey County child," said Askew. "I want to make sure that this county continues to protect our incredibly valuable natural resources, I want to make sure that this county continues to invest in living wage job opportunities for our youth, I want to make sure that we continue to invest in our infrastructure that allows us to grow in reasonable ways."