UCSC grad students claim injuries caused by police, administration says police tried to de-escalate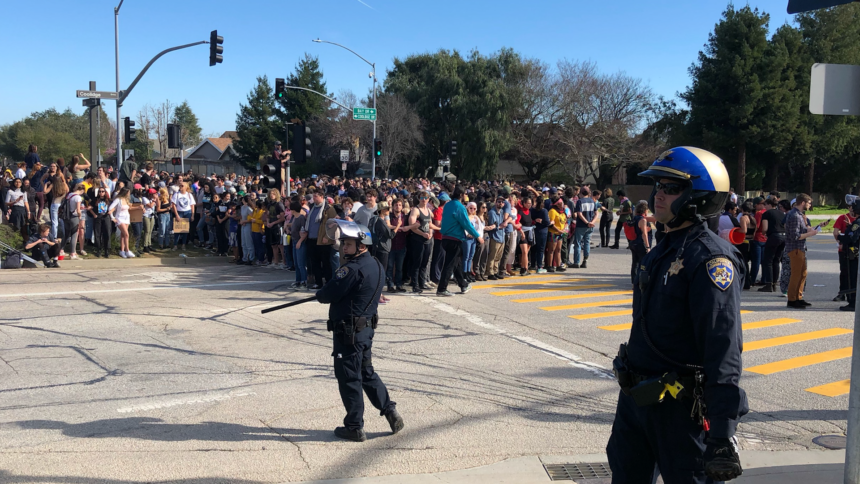 SANTA CRUZ, Calif. (KION) It is day four of an escalated graduate student strike at UC Santa Cruz, and those involved are planning to continue at least through tomorrow.
Undergraduate students, graduate students and faculty returned to the Bay and High Street intersection Thursday and said they stood firm until police backed off and agreed to release those arrested.
"We held the Bay and High Street intersection for over four hours, only leaving when we decided it was time to dance together on the lawn," they said in a strike recap on the "pay us more ucsc" site run by Cost of Living Adjustment, or COLA.
COLA said picketers "stood together in solidarity and stared down the latest police intimidation and brutality" Thursday. The site claims that UC Santa Cruz police injured some strikers who allegedly had their hair ripped out and were in urgent care bleeding, concussed and with broken fingers.
KION spoke to undergraduate student Ben Scheer who claims he was arrested Wednesday.
"They took me down to the ground, forced my hands behind my back and carried me away. [It was] four cops," Scheer said.
School administration tells a different story. A spokesperson for the university, Scott Hernandez-Jason, issued a statement saying that officers arrested 17 people Wednesday, but also that they tried to de-escalate the situation and made it clear that blocking the road would lead to an arrest.
"[Police] protect everyone's ability to exercise the constitutionally protected rights of free expression, speech, and assembly. These rights do not extend, however, to disrupting regular and essential operations of the university by occupying offices, blocking roads, or infringing on the rights of others," Hernandez-Jason said in the statement.
Hernandez-Jason said demonstrators locked arms, sat in the road and refused to move, but also said several dangerous incidents between vehicles and picketers were reported Monday when the picketing began.
Monday marked the start of an open-ended labor strike organized by some UCSC graduate students. The students said they will not be teaching, grading, holding office hours or conducting research as they demand a cost-of-living adjustment.
COLA said demonstrators are demanding that the administration pays all graduate students $1,412 per month. Demonstrators said the demands come because students are in debt due to the high cost of rent.
Strikers say university officials are threatening to fire all students who are withholding transcripts from undergraduate students as part of a strike over wages. It comes after a message from the chancellor announcing financial aid, but also written disciplinary warnings against students who do not submit grades.
The university said campus leaders have been communicating with the leaders of the Graduate Student Association and have offered programs to help students struggling financially, but students participating in the strike said the programs are "absurdly inadequate" in a statement announcing the escalation.
"An administration bemoaning harm to undergraduates missing fall grades cannot burn money on cops that arrest and assault peacefully protesting students. The administration appalls us. It is a disgrace to our community," COLA said in the strike recap.
The number of protesters has continued to grow through out the week, and many undergraduates and faculty have joined the protest too.
"While we understand the frustration about housing costs in Santa Cruz," the university said in a statement, "we also have responsibilities to the vast majority of our faculty, staff and students who simply want to do what they came to UC Santa Cruz to do-- to study, to teach and conduct research."
COLA said picketing will start again Friday at 7:30 a.m.