Salinas Police: Three pedestrians hit, dog killed in Tuesday morning accidents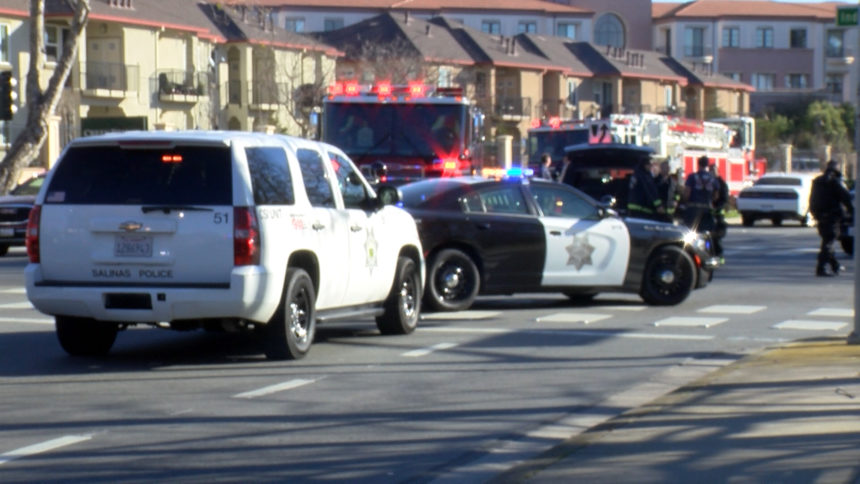 SALINAS, Calif. (KION) A busy morning commute in Salinas turned tragic as emergency crews responded to reports of multiple pedestrians being hit by a vehicle on Independence and Constitution Boulevard.
Law enforcement found two people and a dog had been hit while using the crosswalk.
A man, who wanted to remain anonymous, said he saw the collision happen. "I saw the whole scene. I looked out the window. It was pretty bad."
The two people hit were taken to Natividad, but their dog died on scene.
The witness said he has seen the intersection become dangerous before. "People are always getting ran over all over the place, but here it is pretty bad. I almost got ran over a couple of times, but I always make eye contact with the driver."
Just an hour prior, police responded to another accident on East Boronda and McKinnon Street. It was there that a woman was hit by a vehicle and also taken to Natividad.
"I know some people will actually wake up in the morning and auto pilot to work. They don't really remember what goes on on the road. They're still waking up in the morning," said Salinas resident, Jorge Amezcua.
Police said the two Tuesday morning accidents aren't related, but do have one thing in common. "Traveling, specifically, in an eastbound direction, in the City of Salinas, at these hours, the sun is going to be basically right in your face. There was mention of that being a contributing factor in both of these collisions," said Miguel Cabrera with the Salinas Police Department.
Police said drivers can reduce the sun's impact by utilizing the car's sun visor, wearing sun glasses and cleaning the front windshield. Officers said, above all, slowing down and being attentive is the main way to avoid any accident.
"This time of the day, where these two collisions happened, there is a lot of foot traffic. We have to pay attention to what is going on," said Cabrera.