Hollister council member censured for inappropriate comments, other censures tabled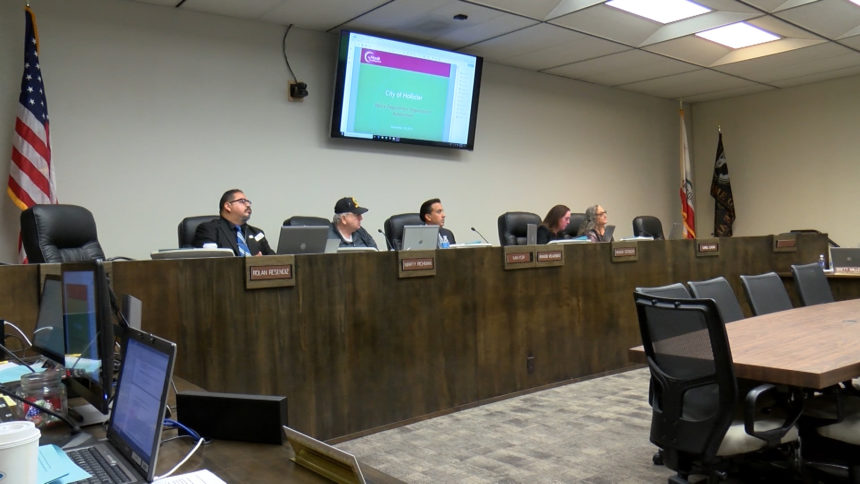 UPDATE 1/22/2020: Hollister City Council members voted to hand down a censure of council member Rolan Resendiz after claims he made inappropriate remarks about fellow members of the council.
According to city documents, council members Honor Spencer and Marty Richman requested the censure over Resendiz allegedly using a gender-based slur and suggesting there was a sexual relationship between Spencer, Richman and an additional council member.
Regarding the gender-based slur, Resendiz responded at Tuesday night's council meeting saying "I speak both English and Spanish and I've never heard of the word they're using being used in a derogatory manner."
Spencer and Richman are also up for censure as requested by Mayor Velazquez for their alleged use of profanity, harassment, bullying and threatening of other council members.
That censure vote was tabled for a later date.
The "war of words" between council members could take a legal turn, too.
Resendiz says there's a pending criminal investigation he believes may be connected to the chamber drama.
Hollister Police confirm Resendiz filed a police report on December 15 for annoying or harassing text messages.
One of those message surrounds a derogatory term for a homosexual allegedly texted to Resendiz by a former city council member.
During public comment, one group was supportive of Resendiz while others claimed they faced harassment, too.
Another group says the council just needs to move on from the drama, with one person saying "it just boils down to bullying and cyber bullying and it has to stop."
The agenda item censuring council members Spencer and Richman is being moved to February 18.
Hollister police say they investigated Rezendiz's report, but would not comment on the outcome.
The case will now be taken up by the San Benito County District Attorney's office.
ORIGINAL STORY:
HOLLISTER, Calif. (KION) Harsh words exchanged among Hollister city council members is now reaching a new level.
Three of them are facing censure in a reality-TV-like tit-for-tat pitting them against one another.
The drama centers around Councilman Rolan Resendiz who is facing a censure request by Councilwoman Honor Spencer and Vice Mayor Marty Richman.
"Until he crossed the line on sexual harassment, no one tried to censure him," said Vice Mayor Richman.
They are accusing Resendiz of using a gender-based slur against a resident and for suggesting there was a sexual and promiscuous relationship between Richman and two councilwomen.
But Hollister Mayor Ignacio Velazquez - who supports Resendiz - is fighting back on his behalf. The mayor is also attempting to censure Richman and Spencer, accusing them of using profanity as well as harassing and bullying Resendiz.
"Basically, two councilmembers have been very aggressive against Councilmember Resendiz… bullying, trying to get him to keep quiet about growth. Basically attacking him over and over," said the mayor.
"It has nothing to do with growth. I've never heard anything so utterly ridiculous in my entire life," said Richman. "The mayor should be ashamed of himself for trying to deflect what's going on."
The incidents each side is leveling at each other happened last year in person and partly on social media.
The mayor says being censured does not do anything to councilmembers' powers or rights. It will simply go on their record. Both sides are viewing their censures as retaliation.
"Rolan has done everything he can to deescalate, but it's getting worse and worse," said the mayor.
Councilman Resendiz is choosing not to comment at this point. Councilwoman Spencer says she will be prepared to speak on Tuesday on the issue and will wait until then.
The Hollister City Council is meeting on Tuesday night at 6 p.m. to discuss the censures.