Beach-goers want Manresa stairs repaired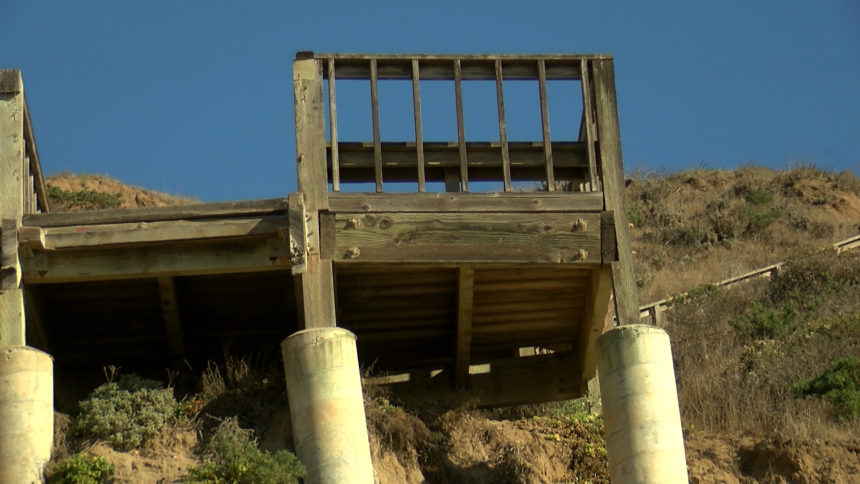 WATSONVILLE, Calif. (KION) -- Manresa Beach-goers say they've stared at a broken set of stairs leading onto the beach long enough and want the state to do something about it.
Residents at the beach say damage caused by heavy storms resulted in a number of staircase entrances to be badly damaged, including one which was wiped out.
The state says there are a number of major infrastructure-related projects they're working on and storm damage to the beach stairs has been identified as one of them.
Still, residents want something done soon because they're concerned someone might get hurt if they end up wandering on the stairs.
"I think not having the stairs limits access for older people and the handicapped," says Santa Cruz resident, Rona Butcher. "I worry about kids, too, because people still come down the stairs. They can get hurt."
It's gotten to the point where some residents are taking action with a gofundme page dedicated to repairing the stairs.
"It would take maybe one flight of stairs to connect 18 to 20 feet to the sand level," says Santa Cruz resident Marcus Helenius. "Park go-ers and surfers would be able to use this again after that."
So far the GoFundMe page lists $15,000 as its target goal, although some skeptics believe it would take more money than that to repair the stairs.
Still, residents who heard about the efforts to get the stairs repaired were just glad something was being done about it.
"If you look at it now, going down the wrong way might get someone hurt," says beach go-er, Mark Smith.
We've reached out to the state for a timeframe in which repairs would be done as well as the costs for such repairs. As of this writing they were unable to comment.