Explosion, massive fire at refinery in Crockett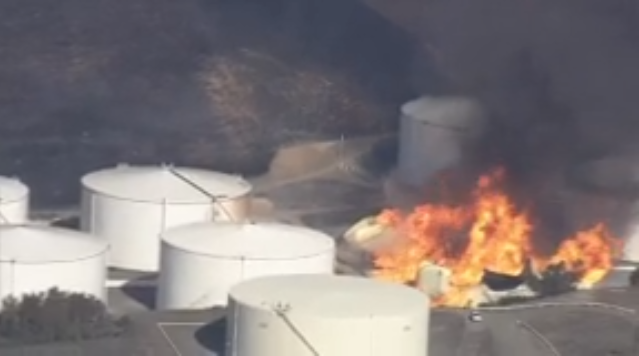 https://livestream.com/accounts/25723746/events/8522569/videos/197854296
KION's sister station in the Bay Area reports that an explosion and fire ripped through storage tanks at NuStar refinery Tuesday afternoon.
The incident started at around 2 p.m. in a petroleum tank storage farm, according to the Vallejo Firefighters Association.
NuStar said in a preliminary statement that all personnel were safe and accounted for, and that the two tanks were holding low volumes of ethanol, less than 1% of tank capacity. Other tanks were cooled to keep the fire from spreading.
Because of the black smoke, Contra Costa County fire officials said there could be other substances burning.
Crews seemed to be making progress, but just before 5 p.m., smoke and fire kicked up again.
Residents in the area were put under a shelter in place because of the possibility of hazardous materials being released. KPIX reports that witnesses experienced explosions and saw large flames and black smoke.
The fire is just a few hundred feet from I-80, and that interstate and other areas were closed.
KION 2019