Thunder Today / Weekend Heat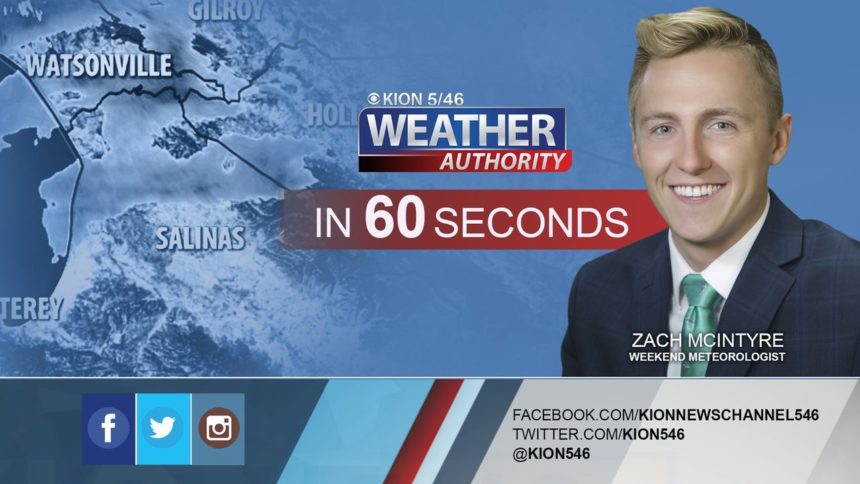 Are you ready for some excitement? After a boring summer of weather, things are about to get interesting. The big monsoonal high pressure system to our southeast will begin to migrate back to the west, closer to us. Its big dome of hot air will be felt starting today and potentially through mid-week next week. Clockwise flow around the high will also draw in moisture from Tropical Cyclone Elida in the East Pacific. This moisture will arrive Thursday, first in the form of high clouds, and then potentially with isolated showers of thunderstorms. Not much rain will reach the ground, however and lightning may be the biggest threat. Chances will be highest south of Monterey Bay and the window will last from Thursday afternoon until Friday morning. Then, we'll be talking about the heat as the ridge centers in over the west, squishing the marine layer, and keeping high temperatures well above normal for the next week. Another pulse of moisture out of the weekend may yield future rain chances as well. Stay tuned.


Thursday: Patchy low clouds on the coast and increasing high clouds from the south. A slight chance of a shower or thunderstorm over southern Monterey/San Benito Counties in the afternoon and evening. Not much rain will reach the ground, but lightning will be a threat. Warmer, with coastal highs in the upper 60s to 70s and mainly 80s to low 100s inland. Breezy for inland valleys in the afternoon and early evening.
Overnight: A few low clouds possible near the bay with patchy fog. Lows in the 50s.

Friday: Mostly cloudy early and very mild with lows in the upper 50s to low 60s. An isolated (mostly dry) shower or thundershower will be possible. Then, becoming partly cloudy and warmer with coastal highs in the 70s to low 80s and widespread 90s-100s inland. Windy for inland valleys in the afternoon and early evening.
*EXCESSIVE HEAT WATCH*
The National Weather Service has issued an Excessive Heat Watch for…
- the Santa Clara Valley
- the Diablo Range
- the higher valleys of San Benito County
- the Gabilan Range and Cholame Hills
- the Santa Lucia Range and Los Padres National Forest
- the southern valleys in Monterey County including the southern Salinas Valley
… from Friday through late Sunday.

Expect well above normal temperatures with afternoon highs in the mid-90s to 108ºF

Heat related illnesses such as heat exhaustion and heat stroke can occur due to prolonged exposure to hot temperatures. People most vulnerable include those who are spending a significant amount of time outdoors, those without air conditioning, young children, the elderly, and those with chronic ailments.

Daytime temperatures for inland areas are forecast to range from the mid 90s to 108 Friday through Sunday. The peak of the heat will likely occur Saturday and Sunday. The Santa Cruz County coast could warm to the mid 80s and lower 90s on Saturday and Sunday. Other coastal areas should remain relatively mild (70s to around 80) compared to inland areas given light onshore flow. Significant temperature differences from the coast to a few miles inland could drive an excessive number of
persons towards the coast to seek relief from the heat. Individuals are advised to check with local authorities on potential closures of parks and beaches and be aware of any special requirements for visiting such areas. Overnight lows will range from the upper 50s to mid 60s, and even 70s in the
hills, which may limit the amount of typical overnight relief from the heat.

Monitor the latest forecasts and warnings for updates on this situation. Be prepared to drink plenty of fluids, stay in an air-conditioned room, stay out of the sun, and check up on relatives and neighbors.

Take extra precautions if you work or spend time outside. When possible reschedule strenuous activities to early morning or evening. Know the signs and symptoms of heat exhaustion and heat stroke. Wear lightweight and loose fitting clothing when possible. To reduce risk during outdoor work, the Occupational Safety and Health Administration recommends scheduling frequent rest breaks in shaded or air conditioned environments. Anyone overcome by heat should be moved to a cool and shaded location. Heat stroke is an emergency! Call 9 1 1.

Extended: High clouds will continue to stream in from the south through the weekend. We'll be watching another moist plume on Monday/Tuesday of next week. With strong high pressure in control, high temperatures will remain 5-15ºF above normal through the next week. It may also feel a bit muggy at times.ADVERTISING
-------------------------------------------------------------------------

This week's normal temperatures:
--COASTAL CITIES--
LOW: 54ºF
HIGH: 70ºF

--INLAND CITIES--
LOW: 52ºF
HIGH: 86ºF

----------------------------------------------------------------------------
-The outlook from the Climate Prediction Center for August 20th – 26th calls for the likelihood of ABOVE normal temperatures and near normal precipitation. Note: Little to no precipitation typically falls this time of year.

-El Niño/La Niña STATUS: Neutral
-Forecast into Winter: La Niña Watch

-Area drought status: Moderate drought for much of Santa Cruz & Santa Clara Counties, Abnormally dry on the east shore of the bay into San Benito County. No drought classification for much of Monterey County outside of the Gabilan Range.