Inland Cooling, Coastal Gloom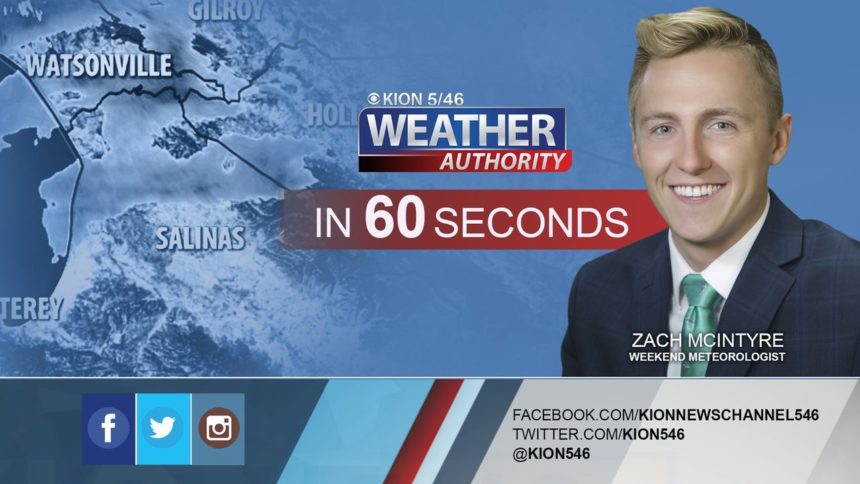 Our weather pattern remains blocked up. One prominent ridge of high pressure continues to dominate the western half of the country while another to our west out over the Pacific reinforces the block. As the two ridges ease away from us, a weak trough will develop on the coast in the coming days. This will allow the marine layer to deepen with cooler, cloudier weather expected. The ridges will squeeze back together as we head into the weekend which will lead to warmer weather once again.


Tuesday: Becoming partly cloudy on the coast and sunny inland. Scattered high clouds will also drift through. Coastal highs in the 60s with low 70s to mid-90s inland. Breezy for inland valleys in the afternoon.
Overnight: Widespread low clouds for the coast and inland valleys. Patchy fog and drizzle possible along the coast overnight. Coastal lows in the mid 50s with upper 40s to mid 50s inland.

Wednesday: Widespread low clouds in the morning with patchy drizzle on the north/east sides of the bay. Becoming partly cloudy on the coast and mostly sunny inland. Coastal highs in the 60s with 70s-80s inland. Breezy for inland valleys in the afternoon.

Extended: More of the same cloud-wise as we head into the weekend. Slow warming can be expected both on the coast and inland however. Highs should return close to normal by the weekend and may be above normal as we head into next week—especially inland.


-------------------------------------------------------------------------

This week's normal temperatures:
--COASTAL CITIES--
LOW: 54ºF
HIGH: 69ºF

--INLAND CITIES--
LOW: 51ºF
HIGH: 86ºF

----------------------------------------------------------------------------
-The outlook from the Climate Prediction Center for July 28th – August 3rd calls for the likelihood of ABOVE normal temperatures and near normal precipitation. Note: Little to no precipitation typically falls this time of year.

-El Niño/La Niña STATUS: Neutral
-Forecast into Winter: La Niña Watch

-Area drought status: Good to Abnormally Dry


-------------------------------------------------------------------------

This week's normal temperatures:
--COASTAL CITIES--
LOW: 54ºF
HIGH: 69ºF

--INLAND CITIES--
LOW: 51ºF
HIGH: 86ºF

----------------------------------------------------------------------------
-The outlook from the Climate Prediction Center for July 28th – August 3rd calls for the likelihood of ABOVE normal temperatures and near normal precipitation. Note: Little to no precipitation typically falls this time of year.

-El Niño/La Niña STATUS: Neutral
-Forecast into Winter: La Niña Watch

-Area drought status: Good to Abnormally Dry