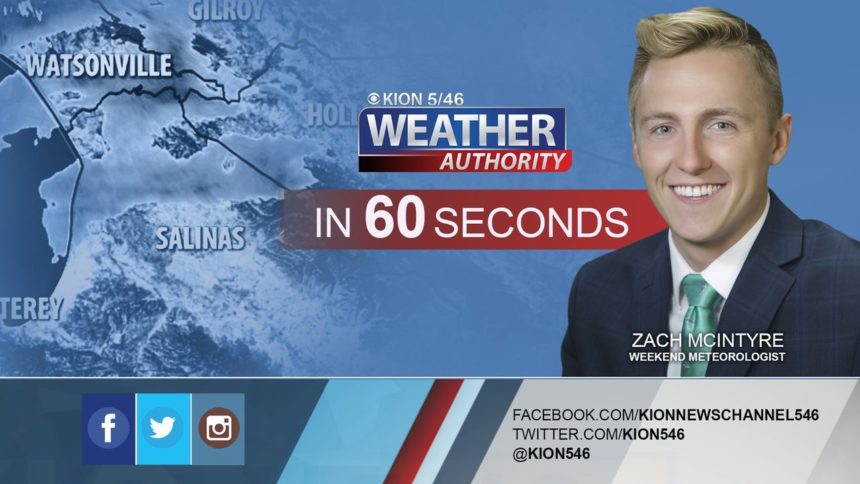 After a cooling trend this weekend, some warming expected early this week as high pressure nudges back in and it is looking fairly seasonable for the Fourth of July holiday at the moment.

Monday: Becoming mostly sunny and warmer with coastal highs in the 60s to low 70s and 70s to 80s inland. Breezy at times in the afternoon.
Overnight: Partly cloudy with patchy fog possible. Lows in the 40s-50s.
Tuesday: Partly cloudy on the coast with inland sun. Warmer inland with temperatures a touch cool on the coast. Coastal highs in the 60s-70s with 70s-90s inland.

Extended: The weather pattern looks fairly tranquil into next weekend, so at the moment, it seems like we'll see seasonable weather for the holiday.


-------------------------------------------------------------------------

This week's normal temperatures:
--COASTAL CITIES--
LOW: 53ºF
HIGH: 69ºF

--INLAND CITIES--
LOW: 50ºF
HIGH: 84ºF

----------------------------------------------------------------------------
-The outlook from the Climate Prediction Center for July 4th-10th calls for the likelihood of ABOVE normal temperatures and near normal precipitation. Note: Little to no precipitation typically falls this time of year.

-El Niño/La Niña STATUS: Neutral
-Forecast into Summer: Neutral
-Forecast into Winter: Equal chances of Neutral and La Niña

-Area drought status: Good to Abnormally Dry