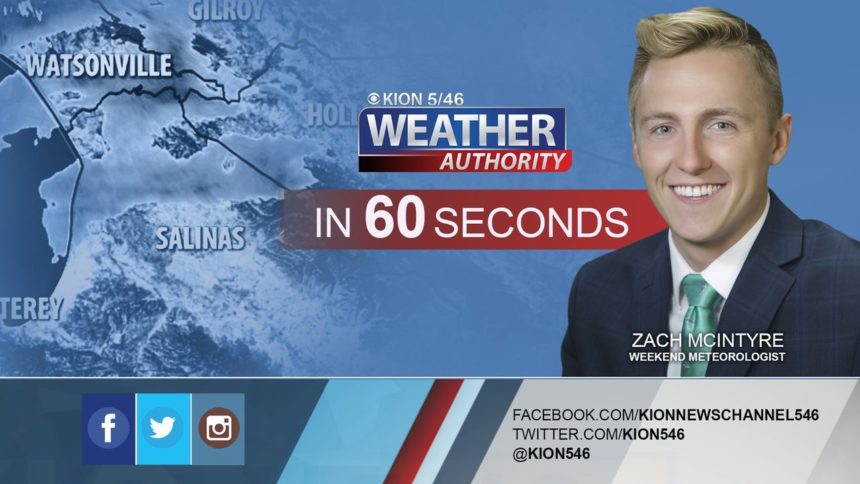 Warm, dry conditions can be expected across the area for the next week or so as a ridge of high pressure dominates our weather. The warmth won't necessarily last on the coast, however, as onshore flow will return Thursday and moderate temperatures into the weekend. Along with that onshore flow, low clouds are likely to make a reappearance as well.

Thursday: Mostly sunny and warm once again with coastal highs in the upper 60s to around 80ºF. Onshore winds will strengthen a bit in the afternoon, but may bit a bit more southerly, affecting the north side of the bay disproportionately. Inland areas will remain sunny and very warm with widespread upper 80s to 90s. Breezy at times in the afternoon and early evening.
Overnight: Low clouds fill the bay, with patchy fog possible. Temperatures will be in the upper 40s to mid 50s for most.

Friday: Patchy lows cloud near the coast with cooler highs in the 60s to low 70s. Inland areas will remain very warm with widespread 80s-90s.
Extended: High temperatures will remain above normal through Father's Day Weekend and beyond with occasional low clouds near the coast and occasional passing high clouds. The Summer Solstice occurs at 2:44PM PDT on Saturday.

-------------------------------------------------------------------------

This week's normal temperatures:
--COASTAL CITIES--
LOW: 52ºF
HIGH: 68ºF

--INLAND CITIES--
LOW: 49ºF
HIGH: 83ºF

----------------------------------------------------------------------------
-The outlook from the Climate Prediction Center for June 25th - July 1st calls for the likelihood of ABOVE normal temperatures and near normal precipitation. Note: Little to no precipitation typically falls this time of year.ADVERTISING
-El Niño/La Niña STATUS: Neutral
-Forecast into Summer: Neutral
-Forecast into Winter: Equal chances of Neutral and La Niña

-Area drought status: Good to Abnormally Dry