Nice, If You Don't Mind The Wind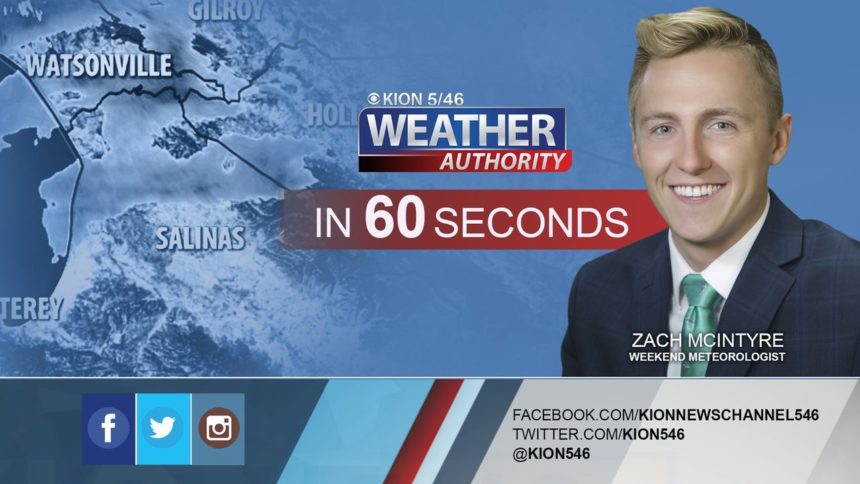 Cooler air will blow into the region today behind a trough of low pressure moving through the Pacific Northwest. High pressure will then build in, allowing for rapid warming on Wednesday. The pattern will mostly flatten out for the rest of the week and into Father's Day Weekend with high temperatures expected to be at or above normal under mostly sunny skies.

***GALE WARNING***
... for coastal waters from Point Pinos to Point Piedras Blancas out to 10 nautical miles until 9PM Tuesday.
Expect Northwest winds 25 to 35 kt with gusts up to 45 kt and seas 8 to 13 feet at 9 seconds expected. .

Strong winds will cause hazardous seas which could capsize or damage vessels and reduce visibility. Mariners should alter plans to avoid these hazardous conditions. Remain in port, seek safe harbor, alter course, and/or secure the vessel for severe conditions.

Tuesday: Partly cloudy skies, with slightly cooler weather. Expect coastal highs in the 60s to low 70s with 70s to low 80s inland. Gusty winds at times on the coast during the afternoon with winds reaching inland valleys in the late afternoon and evening.
Overnight: A few low clouds near the bay with clear skies inland. Lows in the upper 40s to mid 50s.

Wednesday: Mostly sunny and immediately warmer. Expect coastal highs in the upper 60s to low 80s--warmest on the north side of the bay--and widespread 80s to low 90s inland. Breezy over the hills early, then for the inland valleys in the afternoon.
Extended: Expect mostly sunny skies for most of next week with coastal highs in the 60s-70s and 70s-80s inland. Low clouds will be possible for the coast in the mornings with afternoon sun.

-------------------------------------------------------------------------

This week's normal temperatures:
--COASTAL CITIES--
LOW: 52ºF
HIGH: 68ºF

--INLAND CITIES--
LOW: 49ºF
HIGH: 83ºF

----------------------------------------------------------------------------
-The outlook from the Climate Prediction Center for June 23rd-29th calls for the likelihood of ABOVE normal temperatures and ABOVE normal precipitation. Note: Little to no precipitation typically falls this time of year.ADVERTISING
-El Niño/La Niña STATUS: Neutral
-Forecast into Summer: Neutral
-Forecast into Winter: Equal chances of Neutral and La Niña

-Area drought status: Good to Abnormally Dry