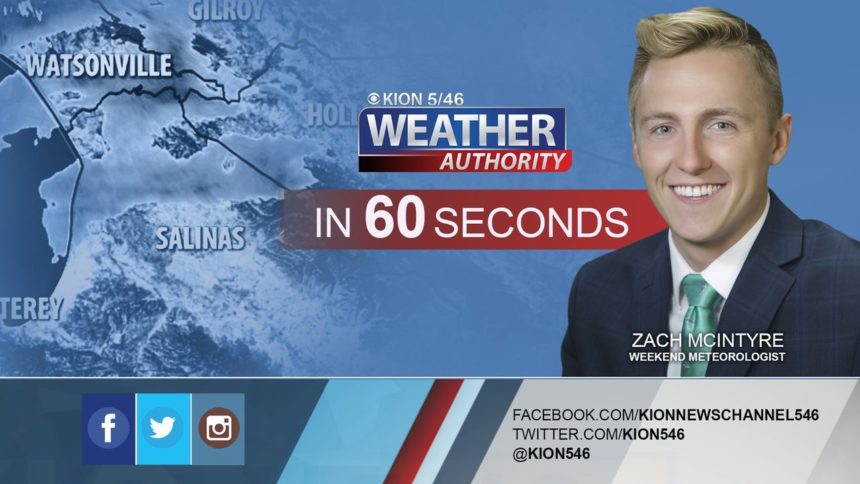 An area of low pressure will begin its trek up the coast today. As it does so, the marine layer will continue to deepen, further cooling our area. Low clouds will have more of a presence on the coast throughout the day and some drizzle will be possible. As the low gets scooped up by a broad trough of low pressure to the north, cooler northwesterly winds will push into the region. They could get gusty at times on Sunday. High pressure will then rebuild from the southwest next week, sending high temperatures back up above normal for this time of year.

Friday: Low clouds and drizzle early. Low clouds linger on the south and east side of the bay throughout the day with only brief breaks. Elsewhere, scattered high clouds will stream in from the southwest. Cooler, with coastal highs in the 60s to low 70s and 70s to mid 80s inland. Becoming breezy in the afternoon for most areas. Low clouds thicken late with some drizzle possible on the south/east sides of the bay.
Overnight: Low clouds fill the bay and inland valleys. Patchy fog and sprinkles possible. Expect lows in the 50s for most areas.

Saturday: Mostly cloudy early with a few sprinkles possible. Then, becoming partly cloudy. Expect mostly seasonable temperatures with coastal highs in the mid 60s to low 70s with 70s to mid 80s inland. Breezy at times. A few sprinkles possible once again late.
Extended: Northwesterly onshore winds could get gusty on Sunday and temperatures will cooler for most areas. Then, we'll slowly warm up both on the coast and inland through mid-week. Low temperatures will be cooler, however, with widespread 40s.ADVERTISING
-------------------------------------------------------------------------

This week's normal temperatures:
--COASTAL CITIES--
LOW: 51ºF
HIGH: 67ºF

--INLAND CITIES--
LOW: 47ºF
HIGH: 80ºF

----------------------------------------------------------------------------
-The outlook from the Climate Prediction Center for June 12th-18th calls for the likelihood of ABOVE normal temperatures and near normal precipitation.

-El Niño/La Niña STATUS: Neutral
-Forecast into Summer: Neutral
-Forecast into Winter: Trending toward La Niña

-Area drought status: Good to Abnormally Dry