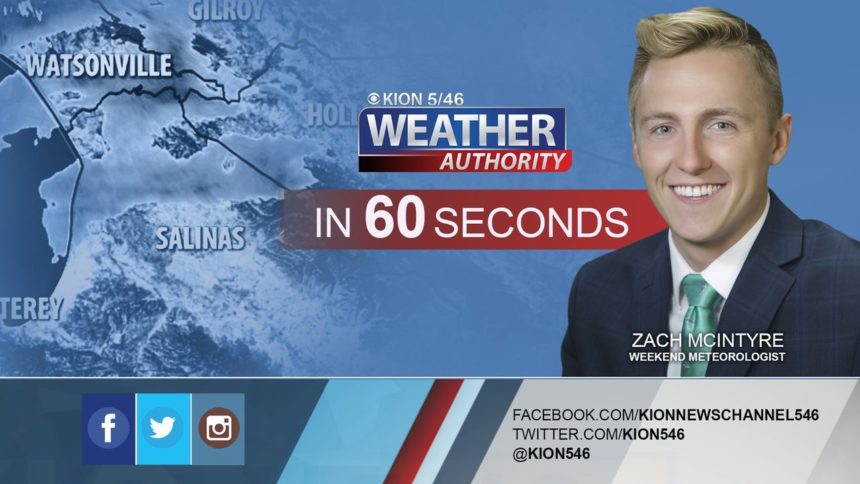 The storm system that brought rain to the area out of the weekend has moved on to the east. In its wake, temperatures will remain a touch cool for this time of year and northwest winds will blow, especially on the coast. Those temperatures will warm back above normal by Thursday. Then, a weak system to the north passes by and cools inland areas a bit on Friday. However, it will only be a brief cool down with warmer weather expected into the weekend. This time, high pressure really builds in which will likely lead to some inland heat. At the coast, temperatures should remain comfortable as winds will stay onshore.


Wednesday: Mostly sunny to partly cloudy and a bit warmer with coastal highs in the 60s to low 70s—warmest on the north side of the bay—and mainly 70s inland. Breezy at times on the coast and in the inland valleys.
Overnight: A few low clouds near the bay. Expect coastal lows in the upper 40s to low 50s with upper 30s to 50s inland.

Thursday: Mostly sunny. Gusty northwest winds on the coast with seasonable temperatures—mainly 60s to low 70s—inland areas will warm into the upper 70s to mid-80s.

Extended: We'll cool a bit on Friday as a weather system passes by to our north but then warm back up through Memorial Day.
-------------------------------------------------------------------------
This week's normal temperatures:
--COASTAL CITIES--
LOW: 50ºF
HIGH: 66ºF

--INLAND CITIES--
LOW: 46ºF
HIGH: 78ºF
----------------------------------------------------------------------------
The outlook from the Climate Prediction Center for May 27th – June 2nd calls for the likelihood of ABOVE normal temperatures and near normal precipitation.

El Niño/La Niña STATUS: Neutral
Forecast into Summer: Neutral
Forecast into Winter: Trending toward La Niña

Area drought status: Good to Abnormally Dry