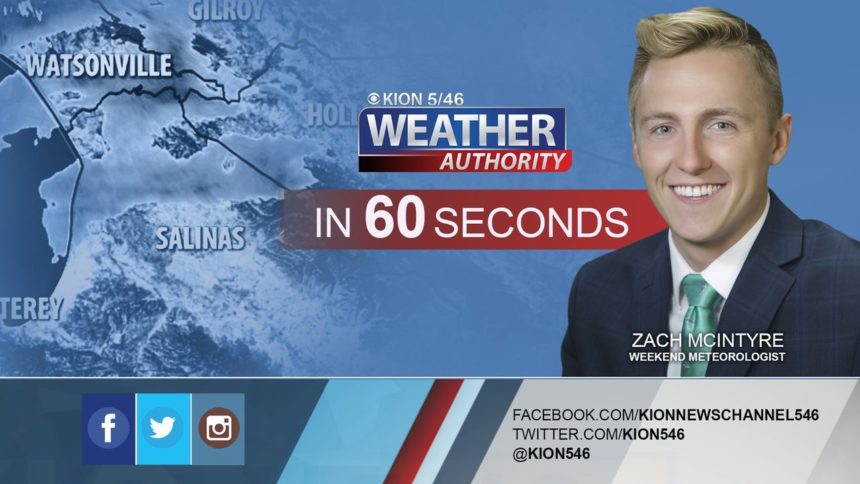 A late spring storm system moves through the region throughout the day. Rounds of showers rotating around the storm's cold core will be possible. Some of these showers will have brief downpours, small hail, and even the possibility of lightning. Conditions will begin to clear Tuesday as high pressure nudges in from the southwest. While this week's temperatures will initially be cool, they will warm through mid-week.


Monday: Partly cloudy with isolated showers. Cooler, with highs mainly in the 60s and a few coastal and higher elevation locations in the 50s. Breezy at times.
Overnight: Mostly cloudy with scattered showers possible. Some showers may have brief downpours. Lows mainly in the 40s and 50s.
Tuesday: Isolated showers early, clearing out towards the later portion of the day. Highs will be in the 60s along the coast with 60s-70s inland. Breezy at times.

Extended: Expect more sunshine Wednesday/Thursday with warmer temperatures.
-------------------------------------------------------------------------
This week's normal temperatures:
--COASTAL CITIES--
LOW: 49ºF
HIGH: 66ºF

--INLAND CITIES--
LOW: 45ºF
HIGH: 77ºF
----------------------------------------------------------------------------
The outlook from the Climate Prediction Center for May 25th-31st calls for the likelihood of ABOVE normal temperatures and ABOVE normal precipitation.

El Niño/La Niña STATUS: Neutral
Forecast into Summer: Neutral
Forecast into Winter: Trending toward La Niña

Area drought status: Good to Abnormally Dry