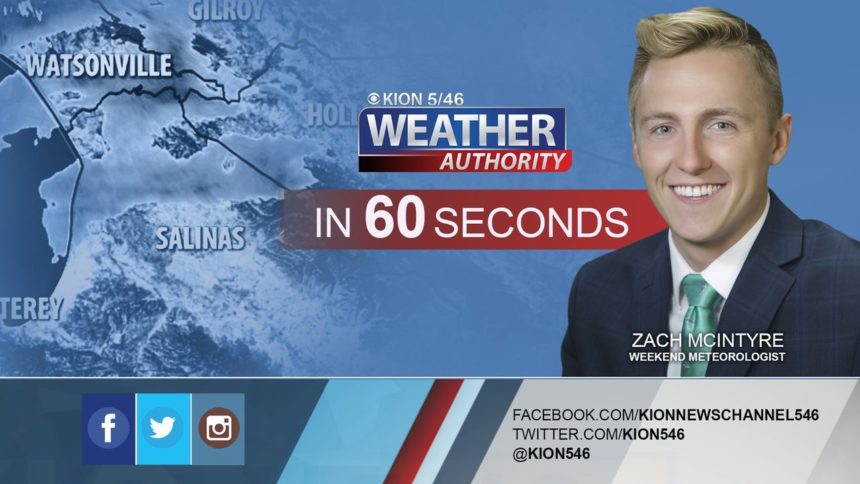 A late spring storm system will linger off to our north Wednesday and Thursday. With its main energy at a distance, only weak disturbances will rotate through our area. The flow will remain cool and moist, however, so a few sprinkles/drizzle will remain possible. High pressure will then nudge in from the south Friday/Saturday, bringing dryer, warmer weather. The next storm system will then push through on Sunday bringing more rain with showers lingering into Tuesday. There are some indications that thundershowers will also be possible on Tuesday.


Wednesday: Partly cloudy with a few sprinkles possible. Another slightly cool day with coastal highs in the 60s and 60s to low 70s inland. Breezy for inland valleys in the afternoon. Increasing clouds late with drizzle possible near the coast.
Overnight: Mostly clear with patchy fog, then increasing clouds toward dawn. Expect lows in the upper 40s to low 60s.

Thursday: Partly cloudy with a few sprinkles possible in the coastal hills. Coastal highs in the upper 50s to 60s with 60s to low 70s inland.

Extended: Temperatures will warm Friday under mostly sunny skies. High temperatures will be back to normal for this time of year--mainly 60s on the coast and 70s inland—and that pleasant weather will last into Saturday, though clouds will be on the increase. Rain is looking likely on Sunday, though it should remain light. Showers likely to linger on Tuesday with a chance of thunder.

The outlook from the Climate Prediction Center for May 20th-26th calls for the likelihood of near normal temperatures and near normal precipitation.

El Niño/La Niña STATUS: Neutral
Forecast into Summer: Neutral

--------------------------------------------------------------------------

This week's normal temperatures:
--COASTAL CITIES--
LOW: 49ºF
HIGH: 66ºF

--INLAND CITIES--
LOW: 45ºF
HIGH: 77ºF