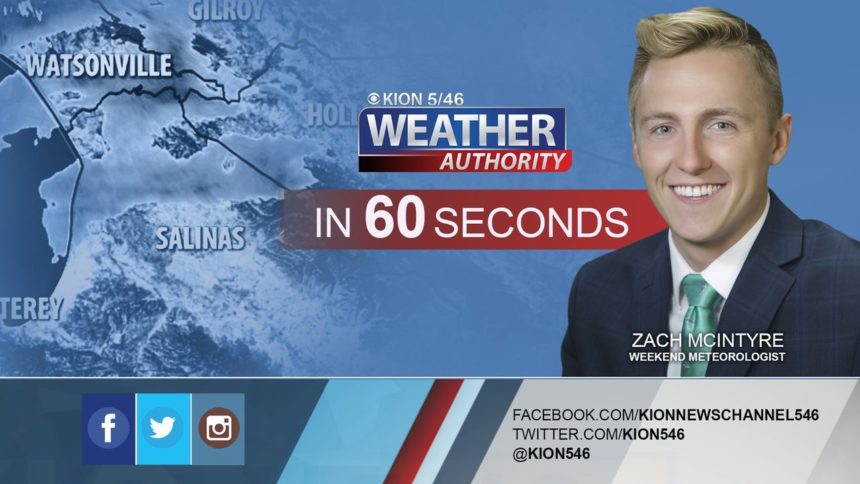 High pressure has nudged in from the south, which will mean above average temperatures for the next few days. However, weather systems passing by to our north will prevent the ridge from building further. It will win out by Thursday, and build in strongly for Friday. Inland areas especially will be feeling the heat! A weather system will then approach from the west, kicking the ridge out, and even bringing rain chances somewhere around next Tuesday.

Tuesday: Mostly sunny and a bit warm with coastal highs in the mid-60s to mid-70s and upper 70s to mid-80s inland. Northwesterly/onshore winds picking up in the afternoon. A few coastal clouds possible by this evening.
Overnight: A few coastal low clouds possible, with patchy fog and drizzle. Coastal lows in the 40s-50s with 30s-40s inland.

Wednesday: Coastal low clouds in the morning, then sunny. Expect coastal highs in the mid-60s to mid-70s with upper 70s to mid -80s inland. Gusty northwesterly/onshore winds in the afternoon.

Extended: Expect lots of sunshine Thursday with warming temperatures, especially inland where some areas will reach the 90s. Friday will be another warm day, though some low clouds main return to the coast. Temps will begin to cool on Saturday, but it will still be warm, then a touch cooler on Mothers Day and further cooling by Monday/Tuesday. A weather system may bring some rain to the region early next week.

The outlook from the Climate Prediction Center for May 12th-18th calls for the likelihood of ABOVE normal temperatures and ABOVE normal precipitation.

El Niño/La Niña STATUS: Neutral
Forecast into Summer: Neutral

--------------------------------------------------------------------------

This week's normal temperatures:
--COASTAL CITIES--
LOW: 48ºF
HIGH: 65ºF

--INLAND CITIES--
LOW: 44ºF
HIGH: 75ºF