Wet & Damp; Windy Weekend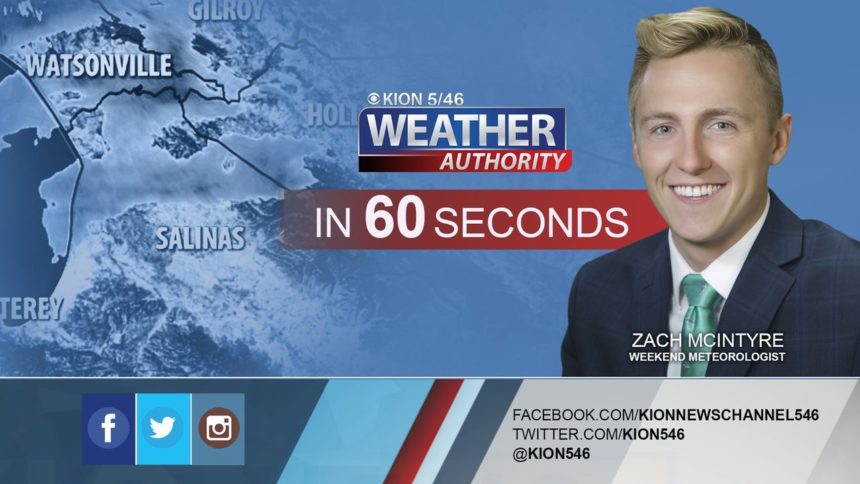 Wet weather is back for the weekend, and it may get a little stormy at times! The first of two weather systems will arrives today. The weather system's cold front will slowly push in the evening, then die out slightly as it stalls over the region. Intermittent light rain will continue for coastal areas and northern inland locations. The next storm system will slide in on Sunday. As it approaches, it will enhance the stalled cold front over our area, causing the light rain to become more moderate as we head into Sunday morning. South-southwesterly winds will also pick up along the stalled front and could get quite gusty at times along the Monterey Coast. The second system's cold front will slam into the region around Sunday afternoon with another dose of moderate to potentially heavy rain and gusty winds. Some shower activity will follow, but conditions will be more tranquil late on Sunday. The core of the upper level system will slide through Monday into Tuesday with showers/t-storms with small hail on the first day and only a few isolated showers on Tues. Warmer, dryer weather expected toward the end of the week.
Overnight: Light to moderate rain overnight. Coastal lows will be in the low to 40-50s with 40s inland. Breezy on the exposed coast and over the hills.

Sunday: Light rain across the region early in the morning, becoming more moderate by dawn. Southerly winds picking up throughout the morning and into the early afternoon. Winds will be strongest and rain heaviest in the early afternoon, then both will taper off into the evening. Weekend rainfall totals up to 4" in the coastal mountains and 1" for most larger coastal cities. Highs in the mid 50s to low 60s.

*Wind Advisory*
… for the Monterey County coastal zone from 5AM Sunday to 5PM Sunday.

Expect south winds 15 to 30 mph with gusts 35 to 50 mph expected.

Gusty winds could blow around unsecured objects. Tree limbs could be blown down and a few power outages may result.

The strongest winds are expected midday Sunday from the Monterey Peninsula southward through Point Sur on the Big Sur coast.

Use extra caution when driving, especially if operating a high profile vehicle. Secure outdoor objects.
Monday: Wet, breezy, and cool. Showers continue with possible thunderstorms. Highs in the 50s.

Extended: Expect partly cloudy skies on Monday with scattered showers and thunderstorms with small hail. Highs in the 50s. A few showers may linger on Tuesday and it will remain chilly. Warmer, dryer conditions expected as we head through the end of the week.

The outlook from the Climate Prediction Center for April 11th-17th calls for the likelihood of ABOVE normal temperatures and BELOW normal precipitation.

El Niño/La Niña STATUS: Neutral
Forecast into Summer: Neutral

--------------------------------------------------------------------------

This week's normal temperatures:
--COASTAL CITIES--
LOW: 46ºF
HIGH: 63ºF

--INLAND CITIES--
LOW: 41ºF
HIGH: 70ºF