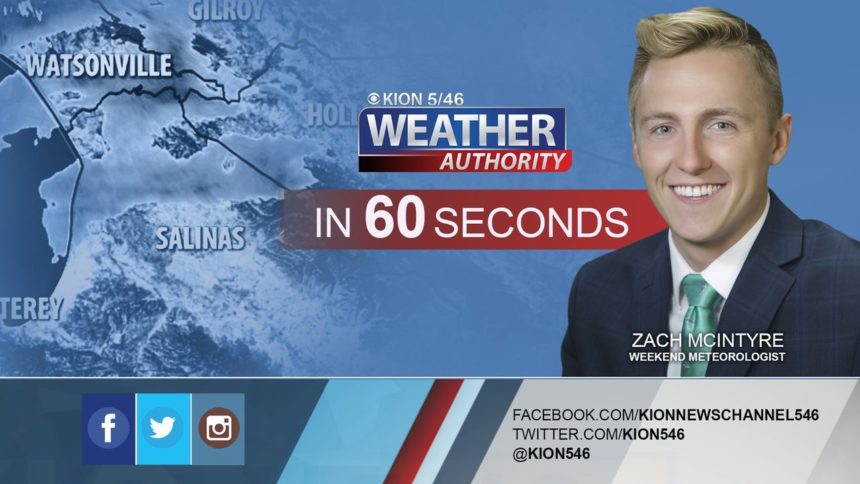 We'll return to active weather this weekend as a storm system moves in from the northwest. It will bring a lot of cloudcover and some light rain into the evening, then showers for Sunday. Temperatures will remain cool. However, high pressure will follow and warm us up next week. We'll also enjoy the longest dry period so far this month (which isn't saying much since it has rained at least somewhere in our area almost every day!)  

 
Overnight: Partly cloudy with valley fog and some drizzle possible.Coastal lows in the 40s with 30s to 40s inland. 

Monday: Partly cloudy with mild highs. Temperatures will top off in the 60s for most. Patchy drizzle possible.
Tuesday: Partly cloudy with warmer temperatures. Highs in the 60s along the coast with 70s inland. Breezy.
 
Extended: Mostly sunny skies and warmer temperatures are forecasted through the end of the week. Highs should be close to normal for this time of year … 60s to low 70s. Expect breezy conditions on the coast during the afternoons, though.

The outlook from the Climate Prediction Center for April 4TH – 10TH calls for the likelihood of ABOVE temperatures and ABOVE normal precipitation.

El Niño/La Niña STATUS: Neutral
Forecast into Summer: Neutral

--------------------------------------------------------------------------

This week's normal temperatures:
--COASTAL CITIES--
LOW: 46ºF
HIGH: 63ºF

--INLAND CITIES--
LOW: 41ºF
HIGH: 69ºF